Native American actress Sacheen Littlefeather – who rejected the Best Actor award in protest on behalf of Marlon Brando for The Godfather at the 45th Academy Awards in 1973 – has finally received an apology from the Academy for the treatment she received 50 years ago.
Littlefeather, who is now 75 but was 26 on that night, was booed by the audience and subject to racist gestures such as "tomahawk chops", and was threatened with violence backstage. She has previously said the Oscars speech ended her career in Hollywood.
Alongside the apology, the Academy will be hosting a special program and conversation called 'An Evening with Sacheen Littlefeather' on September 17, where Littlefeather will offer a reflection aimed at healing. At the event, the Academy will also read out an apology letter sent by former president David Rubin in June.
READ MORE: Woman receives unwelcome mid-flight messages from fellow traveller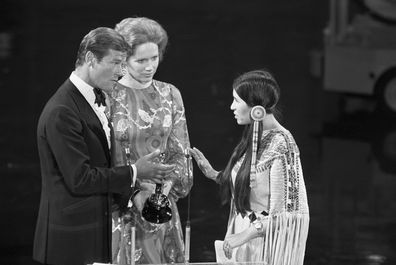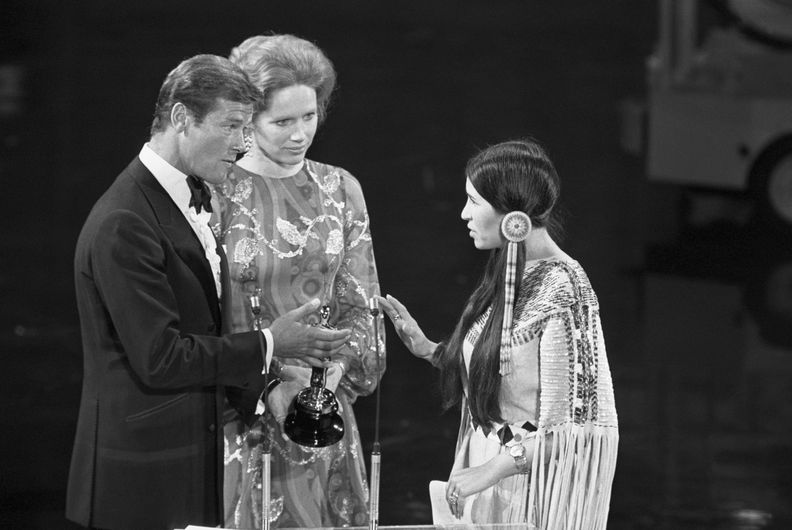 "We are delighted and humbled that Sacheen has so generously chosen to engage with the museum and Academy to reflect upon her trying experience at the 1973 Academy Awards," director and president of the Academy Museum Jacqueline Stewart said.
"Our thanks go out to Bird Runningwater and Heather Rae for helping us foster our cherished relationship with Sacheen."
What happened at the Oscars in 1973?
When Littlefeather took to the stage at the 45th Academy Awards on behalf of Brando, she became the first Native American woman to do so at any Oscars ceremony. Her speech was 60 seconds, and is featured in the Academy Museum's Academy Awards History gallery – Halle Berry becoming the first Black actress to win Best Actress and Parasite winning Best Picture are also some historic moments featured in the museum too.
Littlefeather drew attention to the Wounded Knee protest in South Dakota in 1973, and objected to the depiction and treatment of Native Americans by the film industry. On the night, she was harassed and discriminated against by attendees, and was professionally boycotted and attacked for the next 50 years.
READ MORE: Moment mum knew her daughter's 'ear infections' were more serious
Marlon Brando 'abandoned' Sacheen Littlefeather after her speech
New details behind the famous political protest were uncovered last year in the documentary Sacheen: Breaking The Silence.
In the documentary, Littlefeather, who is a White Mountain Apache actress and activist, said that while her performance delighted Brando, she felt abandoned by the Apocalypse Now actor in the public fallout that followed.
As a result of the criticism, Littlefeather says she was "blacklisted" by Hollywood from her career, which at the time included minor appearances in small films and television shows, and never worked again.
"It was the first time anyone had made a political statement at the Oscars," Littlefeather, whose birthname is Marie Louise Cruz, says in the documentary.
"It was the first Oscars ceremony to be broadcast by satellite all over the world, which is why Marlon chose it. I didn't have an evening dress so Marlon told me to wear my buckskin."
Buckskins are clothing made from soft suede leather from deer hide. While appropriated to become a brief fad in the 1970s, they were originally worn by Native Americans due to their functionality – often trimmed with fringe, the garment can shed rain and dry fast when wet. They also serve as camouflage.
READ MORE: Johnny Depp makes surprise career move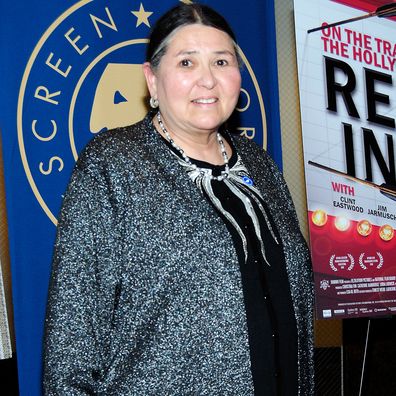 Littlefeather said that when she came on stage, she could "hear the boos and jeers."
"I later learned six security guards had to hold back John Wayne, who was in the wings and wanted to storm on to the stage and drag me off," the actress claims.
Littlefeather went to Brando's house after the ceremony, where "he told me I'd done a great job," she says.
Although Brando complimented her, Littlefeather said the ensuing fallout from the public made his praise bittersweet.
"I was blacklisted – or, you could say, 'redlisted'. I was ostracised everywhere I turned. No one would listen to my story or give me a chance to work," Littlefeather said.
READ MORE: Why does Geri Halliwell only wear white?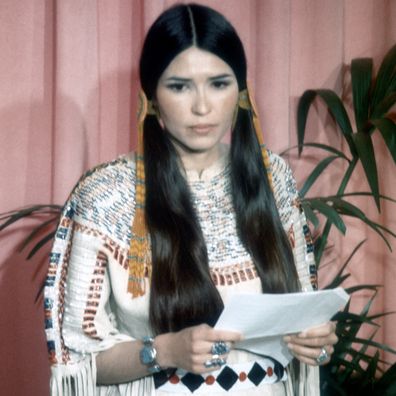 Sacheen Littlefeather's 1973 Oscars speech
Littlefeather has previously said she had 60 seconds to deliver her speech or be removed from the stage, and her original speech was a four-page address written by Brando, though she deviated from the prepared text.
"Hello. My name is Sacheen Littlefeather," she began at the ceremony.
"I'm Apache and I am president of the National Native American Affirmative Image Committee. I'm representing Marlon Brando this evening, and he has asked me to tell you in a very long speech which I cannot share with you presently, because of time, but I will be glad to share with the press afterwards, that he very regretfully cannot accept this very generous award.
"And the reasons for this being are the treatment of American Indians today by the film industry – excuse me [boos and cheers] – and on television in movie re-runs, and also with recent happenings at Wounded Knee.
"I beg at this time that I have not intruded upon this evening, and that we will in the future, our hearts and our understandings will meet with love and generosity. Thank you on behalf of Marlon Brando," she concluded to applause.
READ MORE: Why Anne Heche's personal life made headlines for decades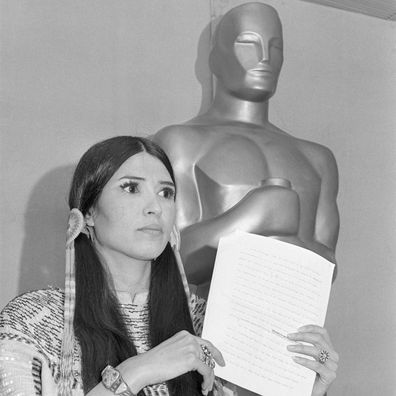 Reactions to Sacheen Littlefeather's 1973 Oscars speech
It is said James Bond star Roger Moore helped Littlefeather after her speech by safely escorting her past critics backstage to the press, where she read the full speech.
At the ceremony after Littlefeather's address, Raquel Welch said "I hope the winner doesn't have a cause" when presenting Best Actress.
Clint Eastwood, when presenting Best Picture, said he was presenting it "on behalf of all the cowboys shot in John Ford westerns over the years."
Co-host Michael Caine criticised Brando for "Letting some poor little Indian girl take the boos" instead of "standing up and doing it himself".
READ MORE: The controversy around Ezra Miller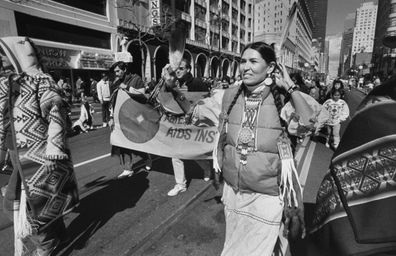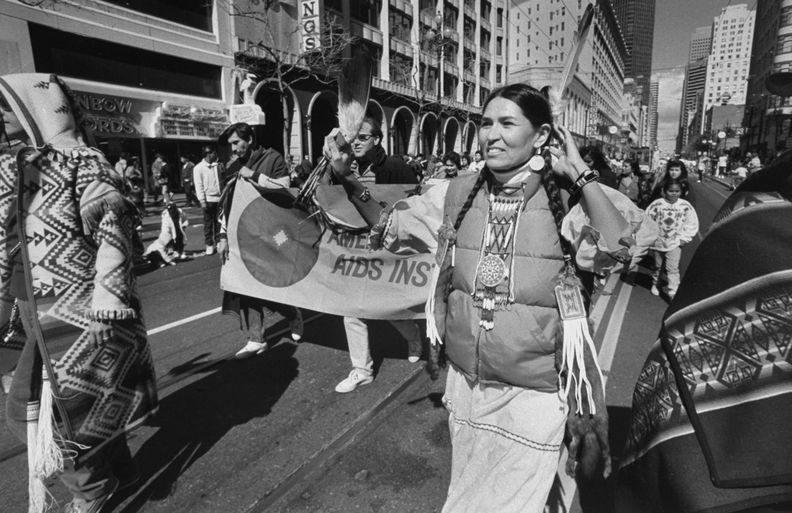 Full apology letter to Sacheen Littlefeather from the Academy
Per Variety, Rubin sent a statement of reconciliation to Littlefeather on behalf of the Academy on June 18, 2022. Read the full letter below.
"Dear Sacheen Littlefeather,
I write to you today a letter that has been a long time coming on behalf of the Academy of Motion Picture Arts and Sciences, with humble acknowledgment of your experience at the 45th Academy Awards.
As you stood on the Oscars stage in 1973 to not accept the Oscar on behalf of Marlon Brando, in recognition of the misrepresentation and mistreatment of Native American people by the film industry, you made a powerful statement that continues to remind us of the necessity of respect and the importance of human dignity.
The abuse you endured because of this statement was unwarranted and unjustified. The emotional burden you have lived through and the cost to your own career in our industry are irreparable. For too long the courage you showed has been unacknowledged. For this, we offer both our deepest apologies and our sincere admiration.
We cannot realise the Academy's mission to "inspire imagination and connect the world through cinema" without a commitment to facilitating the broadest representation and inclusion reflective of our diverse global population.
Today, nearly 50 years later, and with the guidance of the Academy's Indigenous Alliance, we are firm in our commitment to ensuring indigenous voices – the original storytellers – are visible, respected contributors to the global film community. We are dedicated to fostering a more inclusive, respectful industry that leverages a balance of art and activism to be a driving force for progress.
We hope you receive this letter in the spirit of reconciliation and as recognition of your essential role in our journey as an organisation. You are forever respectfully engrained in our history.
With warmest regards,
David Rubin
President, Academy of Motion Picture Arts and Sciences."
For a daily dose of 9Honey, subscribe to our newsletter here.