Anthony Joshua will return to London's O2 Arena to fight America's Jermaine Franklin on April 1 as he looks to work his way back to the top of the heavyweight division.
Joshua is on the comeback trail after two consecutive defeats to Oleksandr Usyk and the loss of his unified world heavyweight championship.
But the Briton promises: "I'm not war torn, I still feel fresh."
He insists he is intensely focused on this crucial return.
"Locked in. It's a serious opponent, I respect all my opponents," Joshua said.
"He's coming to fight. That will make me keep my feet on the ground.
"Throughout my career this is probably the most serious time I've taken it.
"Everything I've been through, positive, negative I'm using it to fuel this camp."
Against Franklin, the former titlist will be having his first fight with coach Derrick James, and for the first time he has been training in Houston, Texas.
"I'm a serious person I'm not there for anything else," Joshua said. "I'm there to put my head down and get ready for a fight.
"With Derrick here, he's got some tricks up his sleeve for sure and we're looking forward to April."
"The world hasn't seen the best of Anthony Joshua," James said.
"He's a great fighter. Great athleticism, great foot movement, very intellectual first and foremost. He understands this sport and understands what I'm asking him to do."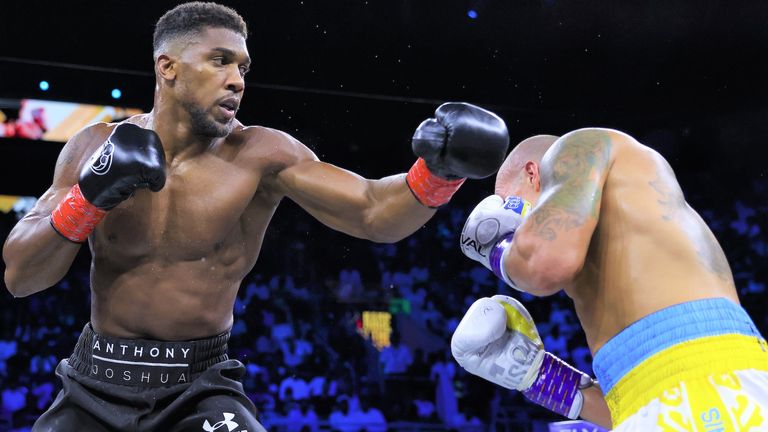 Joshua has a renewed focus. He explained that a "fear of going back to square one" had driven him to "build an empire". Now he feels he can purely concentrate on his boxing
"This is a prizefighting sport," he said. "I do it because I'm good at it and I hustle hard."
Michigan's Franklin boxed in London last November, losing a close majority decision to Dillian Whyte.
But he maintained: "I feel like I won the fight.
"This is boxing. I'm not going to cry about it. I've got the utmost confidence, I believe I could beat anybody. There's never a doubt in my mind. If you've got doubt, you're in the wrong sport.
"It'll be an excellent moment in my career. I've got the will, I've got the heart for it. I'm ready to go to war."