In an Inside the WSL exclusive, Bethany England and Drew Spence reveal why they moved from Chelsea to Tottenham, how they have settled in and discuss the upcoming World Cup.
Spence joined Rehanne Skinner's side in June 2022, bringing an end to her time as Chelsea's longest serving player. She spent 14 years with the Blues, winning 13 major titles and reaching a Champions League final.
She was reunited with former Chelsea team-mate England in January as the striker switched one corner of London for another. She grabbed the headlines with a British record fee of £250,000, and has already repaid that faith with three goals in her first five matches for Spurs.
When asked if the price tag played on her mind at all, England told Inside the WSL presenter Jess Creighton: "I'd like to say no, but there was some banter going on in the changing room about it, which is to be expected – it's part and parcel of the job.
"I was just happy to be on the pitch, but when it went in, I had a big sigh of relief and it made me think, 'we mean business, let's crack on'. To be fair, it hasn't bothered me since. The good start I've had has helped."
England also spent a fair amount of years at Chelsea – seven in total – but restricted minutes left her needing to rediscover her passion for the game.
"I knew I needed to play and I felt that as great of a club as Chelsea are, my time there was due to come up," she explained.
"I'd spent quite a large part of the last few years being a bench player. For me, it wasn't giving me the same feeling and love that I had before so I knew I needed to play. This was the place where I thought I was going to get the best opportunity to showcase what I can bring.
"There were definitely times when I didn't enjoy it. That's not say I didn't enjoy the team or the staff, the winning part of it was fun, but those are the little things.
"You don't do that every day, you don't win titles every day, so it was more the knock-on effect of the everyday of knowing that the minutes aspect of the game was getting less and less, so I needed to make that change."
It was a sentiment echoed by Spence, who was also struggling for game time in an ever-talented Chelsea squad. She admits that she wanted to move away to also fall back in love with football.
"Personally, it was more about enjoying the sport that I love again," she said. "It was tough. When you're in a situation like that, even though you love somewhere for so long, it's tough being in the position I was in.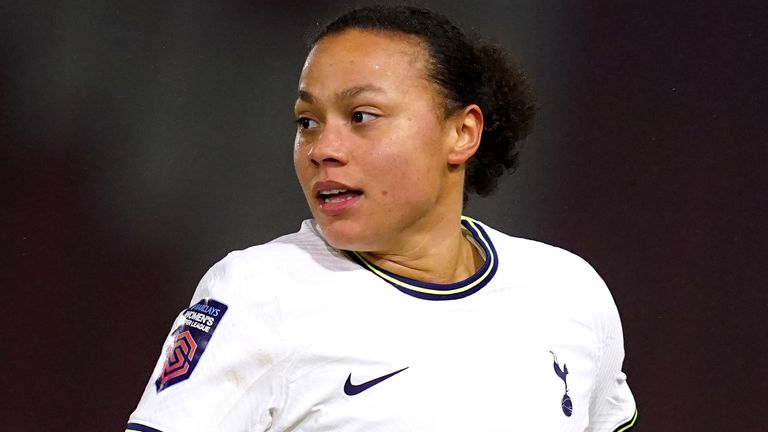 "This career is not long so just enjoy it. Then there's the World Cup in the summer, which I'm excited for and making sure I'm as fit and healthy as possible for that.
"Spurs was the best fit for me. I've known some of the girls for a while and I've heard nothing but good things. When I spoke to Rehanne, I had a really positive conversation – the direction the club is going in, the faith she had in me and the trust she had helped make my decision.
"There are always other interests when you're moving from a club Chelsea, but for me, it was important to feel comfortable and feel like I'm going somewhere where they are moving forward. I've seen big strides in this club, but I think they continue to [make strides], like bringing Beth in for example. That's just the start of it really."
Drew Spence on whether Bethany England's signing indicates Spurs' ambition
"Definitely, and I think it helps other players around you. With the club we were at before, when you've got big-name players coming in, you have to raise your game every day.
"Every training session, you have to be at the highest performance. I hope other girls in the team aspire to that, rather than shying away from it.
"If Rehanne continues to bring players in, I don't see why we can't go further forward."
With the pair clearly close friends, did Spence have any hand in England's move to Tottenham?
"I'll be honest, I didn't know anything… I can't get rid of her!" the midfielder joked.
"I'm delighted that she's here. I know what she can bring to a team. We've been struggling with scoring and she's got three in five already. I'm just happy that she's happy and to be back with her.
"I assisted her at the weekend [against Manchester United] and it's nice to have our connection back again. I think we always had that at Chelsea so I'm excited for the season and the seasons ahead.
"We always know where each other are on the pitch and that just comes with years of playing with each other and being on the training pitch every day. We've just got to bring in here now."
Settling in at Spurs
Spence had a seven-month head start on her team-mate, but as you would expect in any big life change, it took her some time to settle at Tottenham.
She explained: "I've had a lot of changes outside of football, but everything is around me so I'm alright in that aspect. I've got family nearby in Essex so when I get time off, I can go and see them, it's not a long journey anymore. That's part of life, you've got to make big changes.
"When I don't really know people, I'm quite quiet so it took me a while to get the feel of people I don't really know.
"But it's such a great group and a lot of them have been together for a long time, when they were in the trenches. Now they're out of it and they're trying to build.

Inside the WSL



Thursday 16th February 6:30pm

"Everyone has been really welcoming. Learning new personalities is just part of football, people come in and go out every year, it's something I always had at Chelsea so that was easy for me.
"I definitely feel like I've settled in now. It took a little bit of a while to get used to the surroundings, especially after being somewhere for so many years. That was my home, my family, so it took me a while to get my feet on the ground.
"I've moved from Surrey to Essex and that was a change in itself. Now, I feel like I'm settled in the team and I'm really happy to be here. The results haven't been great at the moment but we'll get there."
Six weeks on from her move, England and her new fiancée are yet to find a permanent home in Essex, close to Tottenham's Hotspur Way training base. Rather than battle the temperamental M25 each morning, the club have offered England places to stay nearby as they continue their property search.
"We're still trying to find a place to move to, I'm still in Surrey but we're in the process of it," she said.
Bethany England on why she did not celebrate after scoring against Chelsea
"I got interviewed about that prior to the Chelsea game, they asked if I would and out of mutual respect to the club, the players and the fans – I was there a long time – it was never something I was going to do, being the first one anyway.
"I'm not saying it won't happen in the future and if it had been a match-winning goal, it might've been different.
"But it got us back on a level playing field and it was about getting back to the halfway line and there was mutual respect shown."
"The club have been great at helping me find one of their houses to stay at a few nights a week to save the travel, because the M25 is no joke some mornings. It can take me two hours to get to training and it's not what you need or how you want to start your day. The club have been great at facilitating that and easing that so it's been alright."
As Spence has already discussed, England has also been impressed with Tottenham's ambition for their women's team. Spurs manager Skinner is again bought up as a key reason behind a player signing.
England said: "I had lengthy conversations with Rehanne as well about where the club wants to and the direction they're going in.
"It's still a fairly new club in terms of the top league and I think they've done a good job in the last few years of building. There's still ways to go, but they've got all the right things in place and so much to offer.
"It's never easy leaving Chelsea and trying to pick the place that fits right. You have to have the belief from the manager, that they can count on you and put trust and faith in you.
"The way in which they're making changes constantly, and we had a meeting not long ago about all the implementations they want to bring in to put the club even higher up. There's lots of positives to take that won't just be a quick fix overnight.
"I think people forget that it takes time to build such a strong unit at a club, but it's definitely moving in the right direction. The club are definitely pushing the women's side much more than they previously have."
World Cup ambitions: 'Everybody wants to represent their country at major tournaments'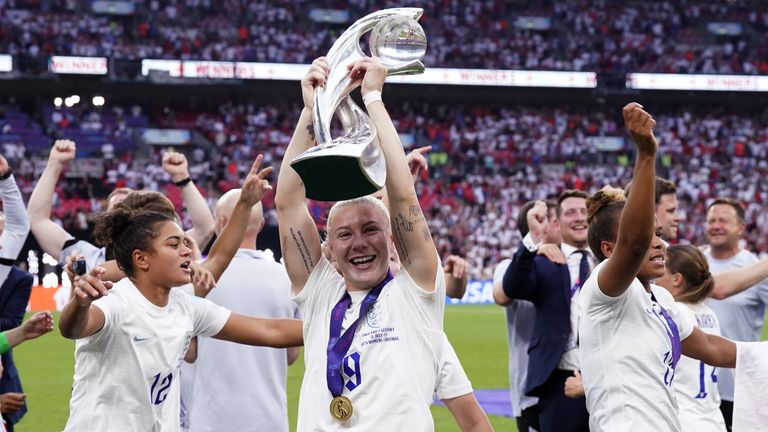 There's no denying that both players have moved to boost their chances of playing at the summer's World Cup. England will be aiming for a spot in Sarina Wiegman's Lionesses squad, having been part of the Euro 2022-winning team.
When asked in the World Cup was part of her decision to transfer, England replied: "There's an element of that. I've said it multiple times, I just wanted to be back playing regular football, getting back to being the best I can on the pitch and whatever follows from that, whether that's England or not, is a bonus.
"Everybody wants to represent their country at major tournaments, I got a taste of it this summer. For me, it's always in the back of my mind, but the priority for me is to be back playing well."
For Spence, she is aiming to be part of Jamaica's squad for the tournament in Australia and New Zealand. It will be country's second successive World Cup, having made their competition debut at the 2019 edition in France.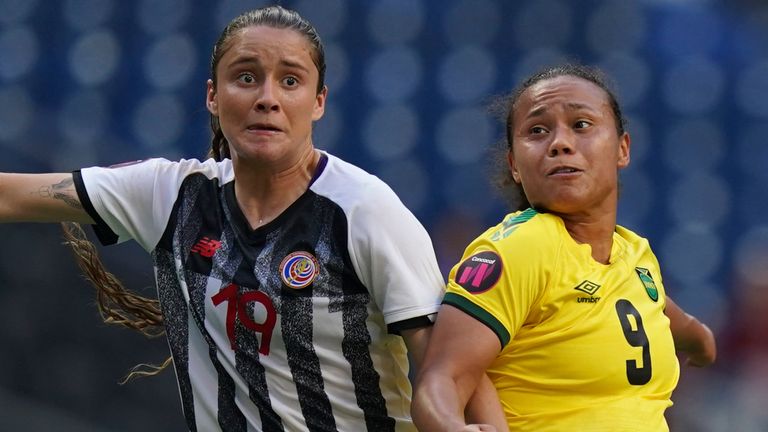 "I've never been to a major tournament before so I think it's going to be one of the experiences you don't really realise until you're out of it. When I'm there, I've got to take it all in my stride," Spence said.
"This is their second tournament so a lot of the girls have been there before. I can take experience from them as well. It's such a great group and it's like a family. They embrace everyone who comes in and we've got a really tough group, but no one thought we would qualify in the first place."
England was also on hand to offer her own major tournament advice.
"I don't think you realise the impact of it until you're out of it," she added. "We would go and win the game, go back to the hotel, eat our pasta meal – just day-to-day stuff.
"Once the tournament ended, just random things like going to the shop or going out, you're getting spotted. It's just a weird feeling to be back in society again. Like going to do a food shop when you've had someone cook for you for five or six weeks, it's a surreal feeling.
"But take every minute that you can and don't take anything for granted because in tournament football, you never know what can happen. Embrace every single minute of it because you don't know if you'll get to another tournament again."
For now, Spence and England's full focus will be on achieving as much as they can with Tottenham this season. Surely then, any call-up for the World Cup will take care of themselves for this talented duo.
Watch the full interview on Inside the WSL from 6pm on Thursday on Sky Sports Football.