Carl Froch and George Groves are reuniting at the Manchester Arena, the scene of their epic first fight, to join the broadcast team for Chris Eubank Jr vs Liam Smith on January 21, live on Sky Sports Box Office.
Froch and Groves will step into the ring at the arena for the first time since their ferocious fight in Manchester that proved to be a landmark event in British boxing.
Groves famously stunned Froch in the first round before the "Cobra" roared back in a fight that would become a classic and scored a stoppage win that Groves bitterly disputed.
Both became stars of British boxing over the course of their feud but now in retirement have set their own rivalry aside.
Froch and Groves will join the commentary team for the Box Office event.
"We've both realised at the time we were good for each other," Froch told Sky Sports.
"That first fight was a proper good watch. It was me basically getting beaten up for six rounds. A first-round knockdown and then all the carry on for the next six or seven rounds where I was just a split second behind. In all the fights I've had that was probably one of the worst six round beatings I've taken.
"To come back from it, turn it around and then obviously have the rematch at Wembley, it was just a great rivalry."
Groves agreed. "That delivered on every count," he said. "This year will be its 10th anniversary. As persuasive as Carl is, he'll say the tide was turning [in the fight before its contentious stoppage finish]. I don't think so.
"It was a memorable fight, a whole memorable experience and something that now with time I can look back on with pride."
Eubank Jr versus Smith looks set to continue the legacy of great fights staged at the Manchester Arena.
"It's one of those fights where the more you know the harder it is to make a solid prediction," said Groves, who boxed Eubank at the Manchester Arena himself and like Froch sparred with him when they were active fighters.
"Eubank has made massive improvements throughout his pro career," Groves said. "I wouldn't really try to box Smith, because Smith being the lighter, smaller, more experienced guy, that will probably suit him.
"It is a good match up.
"Eubank will want to drag him into a fight and then we'll see how Liam Smith copes with that. Smith is tough. He's got a lot of tenacity, a lot of spite.
"But he is giving away a lot of natural size against Eubank. Eubank's fought as high as super-middleweight. If Eubank wants to go back to the way he was when he boxed me, when he was all about volume, he wanted to punch hard, he wanted to hurt the guy and he wanted to put on show, that will probably suit him better.
"Because he wants to try and drag him into a dogfight."
Froch, who was elected to the Hall of Fame this year, also believes Eubank Jr vs Smith has the potential to be a British boxing classic.
"I think it has," he told Sky Sports. "Liam Smith, he knows what he's doing. He's been in the with the best. He's fought Canelo. He's had some top fights and he was a genuine world champion in my eyes. He's earned his stripes.
"Eubank Jr is tough as well, like his old man. He's shown that he's got a real good solid 12 rounds in him. When he comes, he comes to win.
"He's very tough, he can take a punch and he's got quite a ferocious workrate when he puts his shots together.
"When he goes to work, when he puts his combinations together and he puts you on your backfoot, there's not really much you can do about it.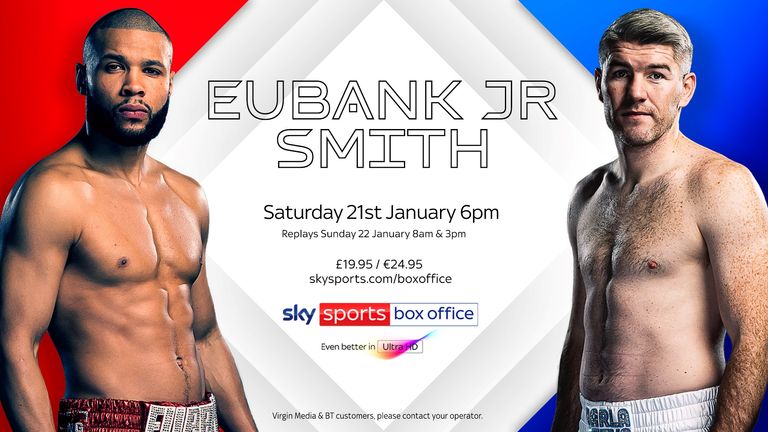 "But this is a serious business and Liam Smith is a serious operator. So I think he's got his hands full.
"This for me is the biggest British fight that I've been looking forward to in ages," Froch added. "You can come unstuck against somebody like Liam Smith. They'll time your work as you come in. They'll be looking for the counter-punch. He's got the experience to cut the ring off, close him down and put Eubank under pressure.
"It's one I'm really looking forward to. I'm going to wait until I work the show with my old mate George Groves before I work out who I'm predicting to win."
Froch and Groves will provide more expert analysis to Sky Sports in the build up to the fight.
Chris Eubank Jr vs Liam Smith is on Saturday January 21, live on Sky Sports Box Office. Book it now if you are a Sky TV subscriber or a Non-Sky TV subscriber. Buy tickets here.