Harry Maguire admits he and Manchester United will need to "have a chat about things" should he continue playing only once a month.
The England centre-back is concerned over his game time having fallen down the pecking order at Old Trafford and losing the captaincy.
Maguire, 30, was linked with a summer move to West Ham although that did not materialise and he remains determined to win his place back under Erik ten Hag.
However, with Euro 2024 on the horizon, Maguire accepted his lack of opportunities could become an issue sooner rather than later.
"Yeah, of course," he said ahead of England's matches against Australia and Italy. "I mean, I'm not going to sit here all my life and play once every month and if it carries on then I'm sure myself and the club will sit down and have a chat about things.
Harry Maguire says 'regular game-time is important' but West Ham never reached an agreement with Manchester United to sign him in the summer

"But, honestly, at the moment I'm fully focused on two games for England, two big games.
"Then I'm fully focused on fighting and trying to get back my place at Manchester United and helping the team climb up the league to where we should be."
'I'm not playing anywhere near enough'
Gareth Southgate has been a staunch supporter of the centre-back throughout his ups and downs but admitted to concerns over his level of involvement, which Maguire is determined to improve.
"I have belief in my ability and what I have done in my career as every player should," Maguire said.
"Every player who is on the bench should believe they should be starting, otherwise they wouldn't be playing at a high level. I am no different.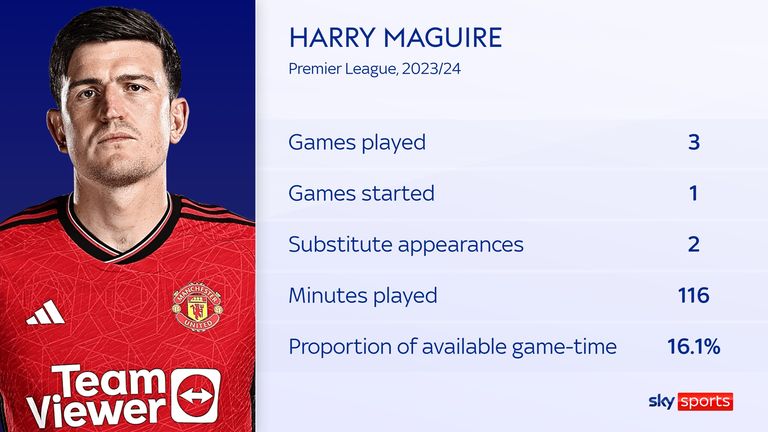 "Listen, it's been tough. I want to play games. I want to feel important to the club and I want to feel important to the rest of the team.
"At the moment I haven't been playing anywhere near as much as I'd like. It's the bottom line of it.
"I've just got to make sure I am ready to take the opportunities when they come along."
Maguire happy with performances
Maguire has kept his England place despite his struggles to break his way into Ten Hag's line-up, making his first Premier League start of the campaign in Saturday's 2-1 comeback win against Brentford.
"It's not my decision whether I start the next game or not," said the defender, who provided the assist for Scott McTominay's winner. "I'm unsure on that. I'm sure in a couple of weeks I'll go back and find out.
Sky Sports' Charlotte Marsh and Zinny Boswell analyse why England manager Gareth Southgate picks players who don't play regularly for their clubs

"Listen, if you look back on my last 15 to 20 starts for club and country, I would be happy to sit here and say 'I'm really happy with my performances'.
"My record under this manager speaks for itself. I haven't started as many games as I'd like, but my win percentage when I've played is ridiculously high.
"And of course, there's times when I can do more and times when I can improve and help the team, but, yeah, I'm just wanting to help the team.
"I'm wanting to help the team get out of this position that we're in at the moment and hopefully we can do that in the coming weeks."
'I believe in myself'
Harry Maguire reveals that David Beckham called him after the abuse he received against Scotland and describes him as an inspiration for how he has overcome a deluge of criticism

Maguire benefitted from a string of defensive absentees as he made just his ninth Premier League start since Ten Hag arrived.
The Dutchman has always spoken positively about the defender in public, saying in August that he "has the abilities to be a top-class centre-back" and must "fight for his place".
"I can only do what I've been doing in terms of when I've come into the team, bringing positive performances," Maguire said.
"I've started two games this season and come on in a few off the bench, but, yeah, keep working hard in training.
"The manager can only watch training and make his decision from training and the games when I get the opportunity to play.
"I'll keep working hard, I'll keep pushing. I have great belief in myself."
Maguire: West Ham move was never agreed
Maguire on a potential move to West Ham: "The actual opportunity to go to West Ham wasn't really agreed between both clubs and myself, so it wasn't just my chance to say yes and I'm going.
"The actual opportunity wasn't there because we didn't get far enough down the line with it.
"West Ham are a massive club, but my full focus is still on Manchester United. I want to fight for my place, but, of course, game time is really important to me."