Jurgen Klopp has dashed the hopes of any more incoming transfers at Liverpool this month, saying not all problems can be solved in the January window.
The Reds moved early in the current market, signing Cody Gakpo in late December for £45m, but it now seems unlikely that anyone else will follow the Netherlands international to Anfield.
It comes despite faltering recent form from Liverpool and a number of injuries to key players, but Klopp is insistent that more bodies will not solve the issues at hand.
When asked about any more movement in January, Klopp replied: "I don't think so, it's just the situation is like it is.
"In the end, my job is to use the boys we have. I have absolutely no problems, like how the team lines up, but when we start changing, you realise that up front now, we don't have three, four or five options and if we do have options, they are quite young, which is fine.
"That's the situation and you cannot solve all problems in a transfer window. In a dreamland, you buy players and bring them in, but I don't see that coming.
"It's not that we have so much money, we don't know what to do with, but we think 'ah we don't need anyone'.
"In this moment, four of our offensive players are injured. If we buy another one, when they come back, we then have sevens strikers. We couldn't even put them all on the Champions League list, so it's just not that easy.
"You cannot solve the problem [in the January transfer window], especially with injuries. That is the big shadow over all over us because it cannot be solves in a transfer window. Sometimes we have to, but usually, you get through until the boys come back then you can use them again.
"In our best season, we didn't have a lot of injuries, it was a lot more intense that it was not, but now we have them and we deal with that. But the transfer market, for us, is not the solution. If something is out there and someone tells me, then yes, we will do it, but in this specific situation, I don't think this will happen."
But despite recent setbacks, a determined Klopp says he is sure Liverpool can find their winning touch once again.
"In this moment, we do not look like the shiniest star, because we don't play exactly the football people expect or we expect as well," he added.
"But we have good moments and we have to fight through this. We have more problems that other teams in this moment, not even three or four per cent are our fault, things just happen. If it starts in a bad way like for us at the start of the season, since then, we have had to deal with injuries in defensive positions, we have a midfield crisis then attackers aren't there and it's not easy in the moment.
"But for us and for me especially, it's a job to do. There are millions of ways to win a football game but you only have to fine one. I'm still confident we can find that and that is what we're working for.
"But we don't compare ourselves with the best version because it's completely different and a different time. We are here to give it a proper go… In the moment, the only thing we have to win is the next game.
"That's all we have to be interested in and we cannot solve problems like the other teams are doing. We have to do it our way… and we will win football games again, I'm sure."
Klopp: Before, Brighton played Potter-ball, now they play De Zerbi-ball
Liverpool travel to Brighton when the Premier League returns to action this weekend. In his first game in charge, new Seagulls manager Roberto de Zerbi drew 3-3 at Anfield in October.
Klopp only had praise for how the Italian has made his mark at the club since his arrival, comparing the football philosophies of De Zerbi and his predecessor, Graham Potter.
"Before they played Potter-ball, now they play De Zerbi-ball," he said.
"It's what he did before on that day [at Anfield], I think he was smart enough to not change too much. I'm not sure when he came in before, but that's always tricky. They did pretty well, but also since then, and I respect that a lot.
Jurgen Klopp on Milner, Nunez, Firmino fitness
On Darwin Nunez: "We are waiting for more information [on if he can train], it's not a major one but it kept him out of training. We have to wait for that."
On Roberto Firmino: "In the first moment, it was like a little injury where the estimate [was] 10 days, two weeks
"He did the normal rehab stuff, all the experts told us what we can do – and then Bobby felt again something and that kept him out then for longer.
"I don't know exactly when he will be back, but he's not close to team training,."
On other players: "Millie [James Milner] did big parts of training yesterday and will be back in normal training today, Bobby not. Stefan [Bajcetic] will be back in training today too."
"It's a really good job he's done there. It was a smart decision from Brighton to bring him in after Graham. The possession-based philosophy is very similar so it was a very smart decision and he's doing well.
"You can see when things are clicking, people are 10 to 20 per cent better. Confidence changes everything in football, and they are full of confidence.
"Brighton require a specific type of respect, I don't think anybody underestimates them anymore. Who would have thought the possession stats could increase after Potter. It happened, Mr De Zerbi loves to have the ball as well, they are playing good stuff and full of confidence.
"There isn't pressure [on them], if they qualify for Europe, it's massive. It's a different situation but we have opportunity to go there and cause real problems. In our best seasons, Brighton was always a tough place to go and if we did get something, we dig in deep. That's the plan again."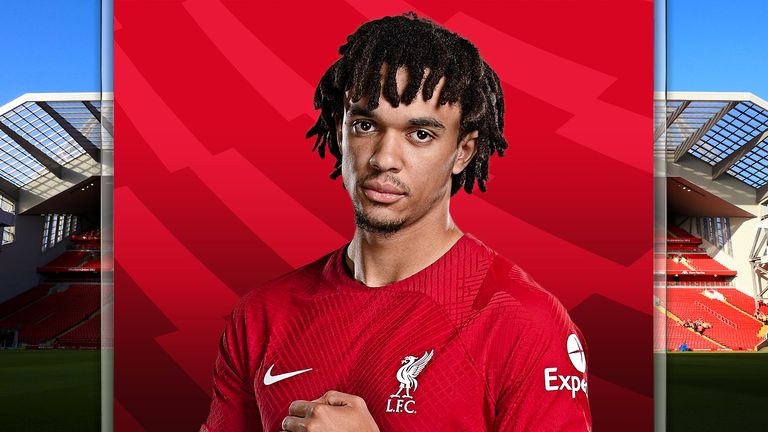 "In those split seconds, you evaluate and you weigh up where the defender is, where your team-mate is, the speed at which they are running, how and where the ball needs to go, and whether you're able to do that," Trent Alexander-Arnold tells Sky Sports.
Liverpool's right-back is describing, calmly and in some detail, his thought process in the moments leading up to a pass like the one which set up Darwin Nunez's stunning goal in Saturday's FA Cup tie against Wolves. It might sound like a lot, but not to him.
"I never like to limit myself," he adds. "So, in those situations, I always think I can play any pass that I see, as long as it's on. If there's a defender standing in my way and it's physically not possible to get the ball there, then you can't play it. But I like to think that I can play most passes that I'm able to see, and I was able to see that."
The pass, delivered at full speed, so perfect in its execution that Nunez did not even need to break stride in order to stroke it into the bottom corner, was an Alexander-Arnold classic, and a reminder, if it was needed, of the extraordinary talent he possesses.
Here, Alexander-Arnold opens up to Sky Sports about Liverpool's difficult season, dealing with criticism and why Nunez will come good…