Pep Guardiola has bemoaned accusations of him "overthinking or being arrogant" when he changes tactics at Manchester City and they go wrong – after using Bernardo Silva in a left-back role in recent games.
The City manager saw his side go top of the Premier League via a 3-1 victory over title rivals Arsenal – but Guardiola revealed the worst part of the game were his own tactics as he "tried something different and it was horrible".
When asked if those tactics were based on Silva, who has played a more defensive role in recent games, Guardiola denied that was the case – with the tactical switch actually relating to how his wingers defended.
When it was put to him that Silva was the tactical error at the Emirates Stadium, Guardiola responded: "No, I didn't say that. I said in general the aspect and what I imagined and figured about the game didn't work. But not because Bernardo played at left-back.
"Bernardo as a full-back is more aggressive in the duels than (Fabian) Delph and (Alex) Zinchenko. [The horrible tactics] were because I defended with wingers inside and not outside.
"If it works, I am brave. If it doesn't work people think I'm overthinking and arrogant. People say what is he [thinking], changing tactics? Why [doesn't he] play (Kevin) De Bruyne all the time? Why [doesn't he] play the other ones?
"De Bruyne cannot play all the games, he needs to be fresh here, he needs to get the message that he can do better. And sometimes sitting [out] is good.
"I cannot go to sleep or wake up in the morning and visualise the opponent, [such as] Arsenal do and think: the normal thing is to pick the starting eleven that 89 per cent of the people think is the best starting eleven.
"What I'm saying is when I take a decision, I have to believe it. I have to feel it. I take my job incredibly seriously. I'm not naïve [for] not even one second about my job because there are a lot of passion, emotions and people in my job and in our games – and I don't want to hurt those feelings.
"After [the start of the Arsenal game], it didn't work. I thought I wanted the wingers to defend inside to try and force them (Arsenal) one way. After five, 10, 15 minutes – I didn't like it. We could not press intensively. We changed it and [came] back to what we did in the previous games.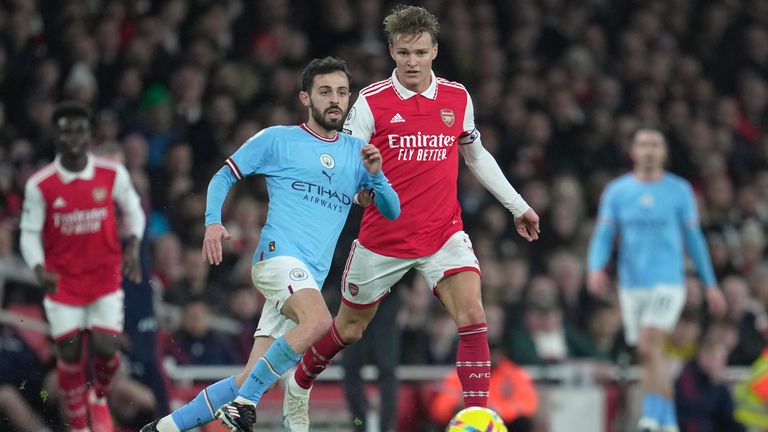 "The players took responsibility, defended in the bad moments, and we said go back to who we are, go crazy, go back to almost man to man, go aggressive. Don't let them time to think, to play with Jorginho to (William) Saliba in the build-up with Alex (Zinchenko) coming inside. Don't let them do that process. If we lose, we lose. And the team changed. It would be so incorrect to say it [the horrible tactics] was because of Bernardo. It was not that way, absolutely not.
"Why shoot Bernardo? People said the same thing when Fabian Delph started playing at the back. People said: 'he's an attacking or a holding midfielder – why is he playing there?' And Alex (Zinchenko) is a No 10 and people started saying: 'why is he playing there?' And when it works in the Champions League, Pep is a genius.
"And when it doesn't work? [People say]: 'he's overthinking, what is he [thinking]? With the squad he has, he's arrogant. He comes here to change football and invent football'."
Pep: Many things can happen in title race | 'Nothing has changed at the top'
The title race narrative has changed for City – with that victory over Arsenal seeing them becoming the hunted, rather than the hunters, at the top of the table.
City's next challenge is a trip to Nottingham Forest, who are unbeaten in seven home league games at the City Ground under Steve Cooper – a run dating back to the middle of September.
Guardiola is insistent that the Premier League title race is not solely consistent of City and Arsenal – with the race potentially going as far down as sixth-placed Brighton, according to the City boss.
"It will be close," he said when asked if there are more teams in the title race. "United, Newcastle are close, really close. A lot of games and they are there. Tottenham is not far, far away," said Guardiola.
"Brighton have two games in hand and the way they are playing, they deserve to be there. Brighton control the games like no other team. Many things can happen."
Asked if he is looking at the title race a little differently now City are top, Guardiola said: "Arsenal still have a game in hand, so nothing has changed much.
"When you are a lot of points in front or a lot of points behind, yes there is a big difference, but we are tight.
"Momentum is when you win 10 games in a row and it didn't happen this season. We lost three games ago in London against Tottenham.
"Momentum is tomorrow at 3pm – be ready, mentally, against a team that have lost just one in six, have won important games at home, with their crowd and with a manager I respect a lot for what he's done for English football."