Burnley manager Vincent Kompany says his side clinching the Championship title away at rivals Blackburn "will be talked about for generations".
The Clarets had secured promotion back to the Premier League at the first time of asking with a 2-1 win over Middlesbrough on Good Friday, but they won only one of the four games that followed, delaying what had always been seen as the inevitable.
But after a shock 2-1 defeat to QPR last weekend – their first defeat in all competitions at Turf Moor all season – they bounced back in timely fashion, with Manuel Benson's stunner after 66 minutes of the Lancashire derby proving enough to secure the title with two games to spare.
Highlights of the Sky Bet Championship clash between Blackburn and Burnley

"I'm really happy. I'm so proud of the guys," he told Sky Sports shortly after the final whistle at Ewood Park.
"For anyone who doesn't know what happens in this part of the world, this is a massive game, so there couldn't be a better, bigger game for us to win the league. It will be talked about for generations.
"I thought it was a template for us for things to come. This season, everybody's made so much of the football we've played, but today we've shown how we can grind it out. We defended so well.
Burnley's celebrations begin after their victory against Blackburn seals the Championship title!

"The backline were so brave and they took out dangers so well. It's a side of the game we love as well. We don't have a problem with hunting, pressing. On the ball, it was difficult – they did well. But, for us, it wasn't anything different than we're used to, we just adapted and did really well."
Asked why it had taken that extra few weeks after promotion had been confirmed to wrap up the title, Kompany said: "I'm not going to call it stage-fright, but in the second half against QPR we froze, we stopped doing what we were doing because we were chasing the trophy.
"Today we didn't do it. We stayed calm, we accepted that sometimes the momentum wasn't going to go our way, but all the little bits in between – what has made us so consistent this season – we did well. There's not a team in this league so far this season that has managed to keep us out of a game for 90 minutes and when we had our moment, we were lethal.
Manuel Benson curls in an absolute beauty to give Burnley the lead and put them on the verge of winning the Championship!

Burnley round off the season with a trip to Bristol City this Saturday and the visit of Cardiff on the final day of the season next Sunday.
Should they win both matches, they will become only the sixth team – since the second tier was rebranded in 2004/05 – to reach the 100-point mark. Kompany says, despite his side's success, the focus remains the same.
He added: "We just want to keep winning, so any games will still have the same preparations and the same goal, but today they deserve to celebrate it. It's a once-in-a-lifetime occasion. You can't get much better.
"You've got the win the games you play and that's what we've done, but we know next season is going to be a tough, tough challenge."
Analysis: How Burnley built back better
Sky Sports EFL Editor Simeon Gholam:
"For all the talk of parachute payments that usually swirls around when a team bounces straight back to the Premier League, you only need to look at where Norwich and Watford are this season to see that it is not always as straightforward.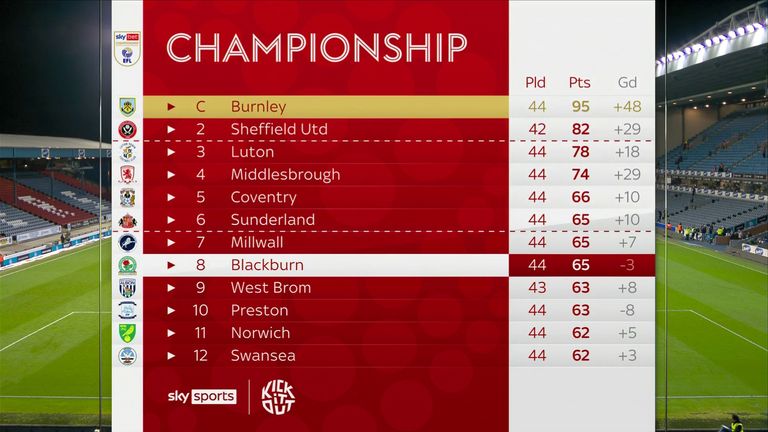 "Burnley had lost their figurehead manager in Sean Dyche – who had spent nearly a decade shaping the club in his image – their England international goalkeeper Nick Pope, their reliable defensive duo James Tarkowski and Ben Mee, Nathan Collins, Dwight McNeil, Max Cornet and Ashley Westwood.
"The core of the side had been ripped out, and in came a big-name manager with a massive reputation in the game, but still very little experience in the role.
"Money was spent but the arrivals were all fairly low key and all have improved under Kompany. He used his knowledge of an untapped Belgian market to bring in the likes of Anass Zaroury, Manuel Benson, Vitinho and more.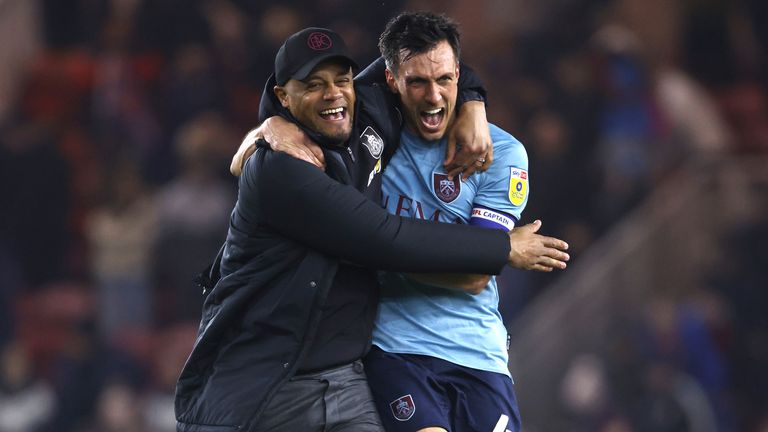 "Shrewd loan signings have already made a big impact. Southampton must be wondering whether letting Nathan Tella score as freely as he has in the Championship as they head towards the Premier League trapdoor was such a good idea.
Elsewhere, Ian Maatsen will surely have hopes of breaking in at Chelsea next season as a challenger to Ben Chilwell on the left side of their defence, and Taylor Harwood-Bellis would be a candidate for the Championship team of the season had he not got injured in January.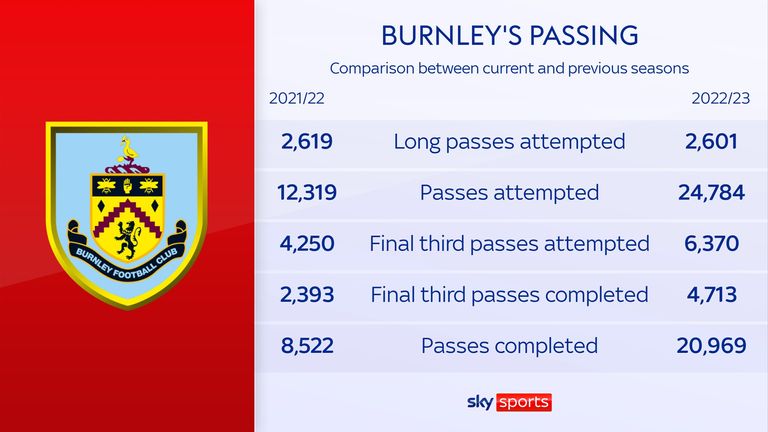 "And then there has been the style of play. Free-flowing, attacking, dominating. The defeat at Sheffield United in November sticks out like a sore thumb because it was so isolated in how poor it was. And lessons were quickly learned. After that defeat, Burnley won their next 10 in a row, scoring 24 and conceding just three.
"They will, without a shadow of a doubt, go down as one of the greatest-ever Championship sides. And all eyes will be on Kompany and Burnley to see if they can continue to build in the Premier League next season – if the Clarets can keep him."