The Schengen Visa is one of the hardest visas to get, especially for Filipino travelers. The sheer number of requirements alone can make any nervous applicant think twice about pursuing their application. Some of them are quite hard to secure, but there's one item that is incredibly easy to get online — travel insurance.
Yes, a travel insurance is required when applying for a Schengen visa. And not just any travel insurance, it should meet the coverage criteria set by the embassies. In this article, we'll walk you through the insurance details you should check and how to conveniently purchase one online.
WHAT'S COVERED IN THIS GUIDE?
What travel insurance is approved for Schengen visa?
The travel insurance policy you should buy and submit to any Schengen embassy must meet the following requirements:
It must have coverage of at least EUR 30,000.
It must be valid for all Schengen member states.
It must cover the entire duration of the stay. (Note: some embassies like the Italian Embassy requires an additional 15-day coverage beyond the travel dates.)
It must include medical treatment in case of accident or illness (including COVID-19)
It must include transportation home for treatment in case of illness or injury, or repatriation in case of death
It must allow cashless settlements of claims with the toll-free number indicated.
The insurance company must be accredited and reinsured.
There are a number of insurance companies that are accredited by Schengen embassies, but the one we tried in our most recent visa application is PGA SOMPO, a joint venture of the two of the most trusted insurance companies in the Philippines and Japan, which offers TravelJOY Plus.

TravelJOY Plus's SUPREME plan is specifically designed for Schengen visa applications, and this is what we availed of. It was one of the cheapest we found and definitely the easiest to book! (We paid for our policy in full, and yes, our application was approved.)
So when PGA SOMPO approached us for a feature, we said yes immediately. Now, The Poor Traveler readers like you can enjoy a special rate when you book on the PGA Sompo website and use the promo code: WORTHIT.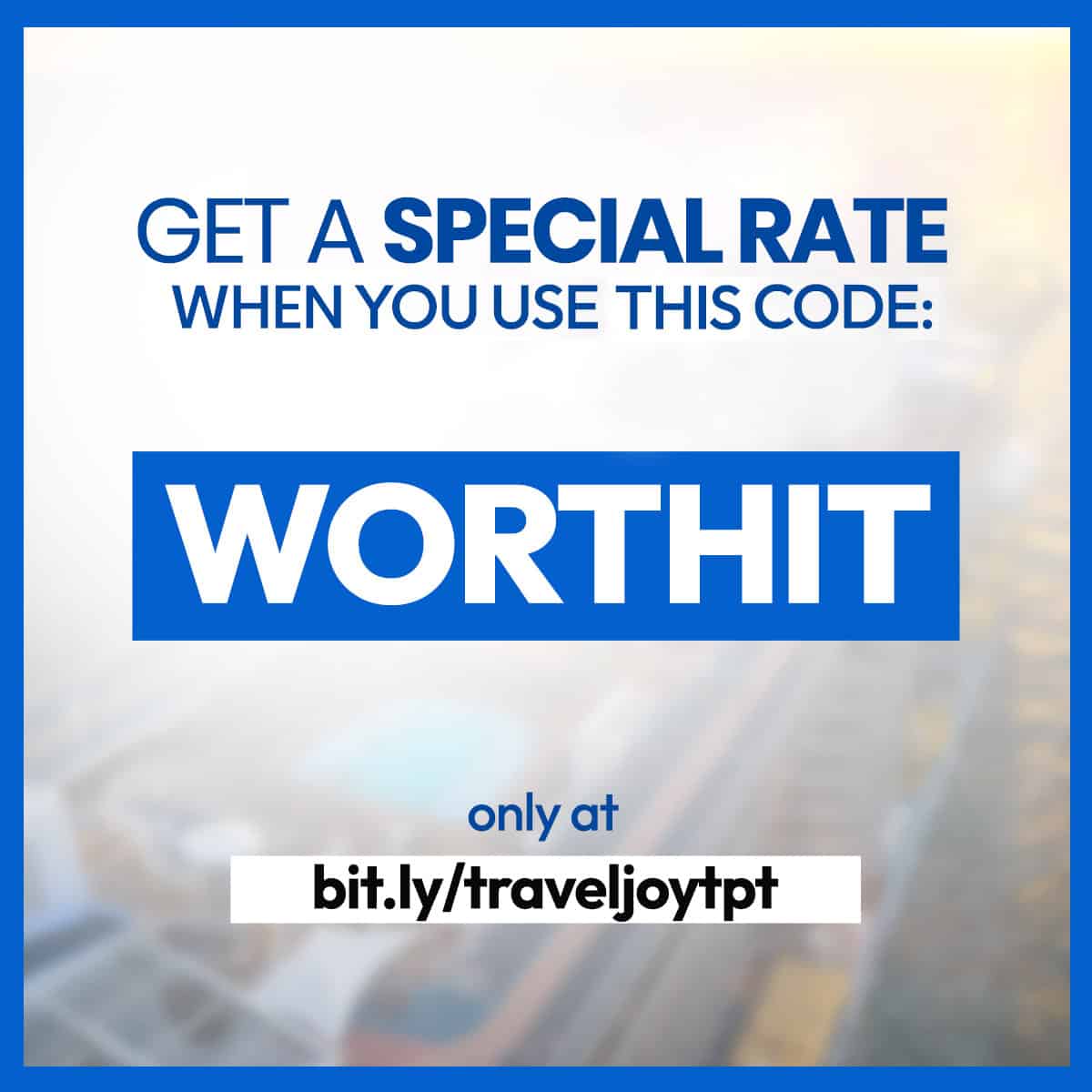 ---
How to Book Travel Insurance Online
The first thing you'll see is this short form: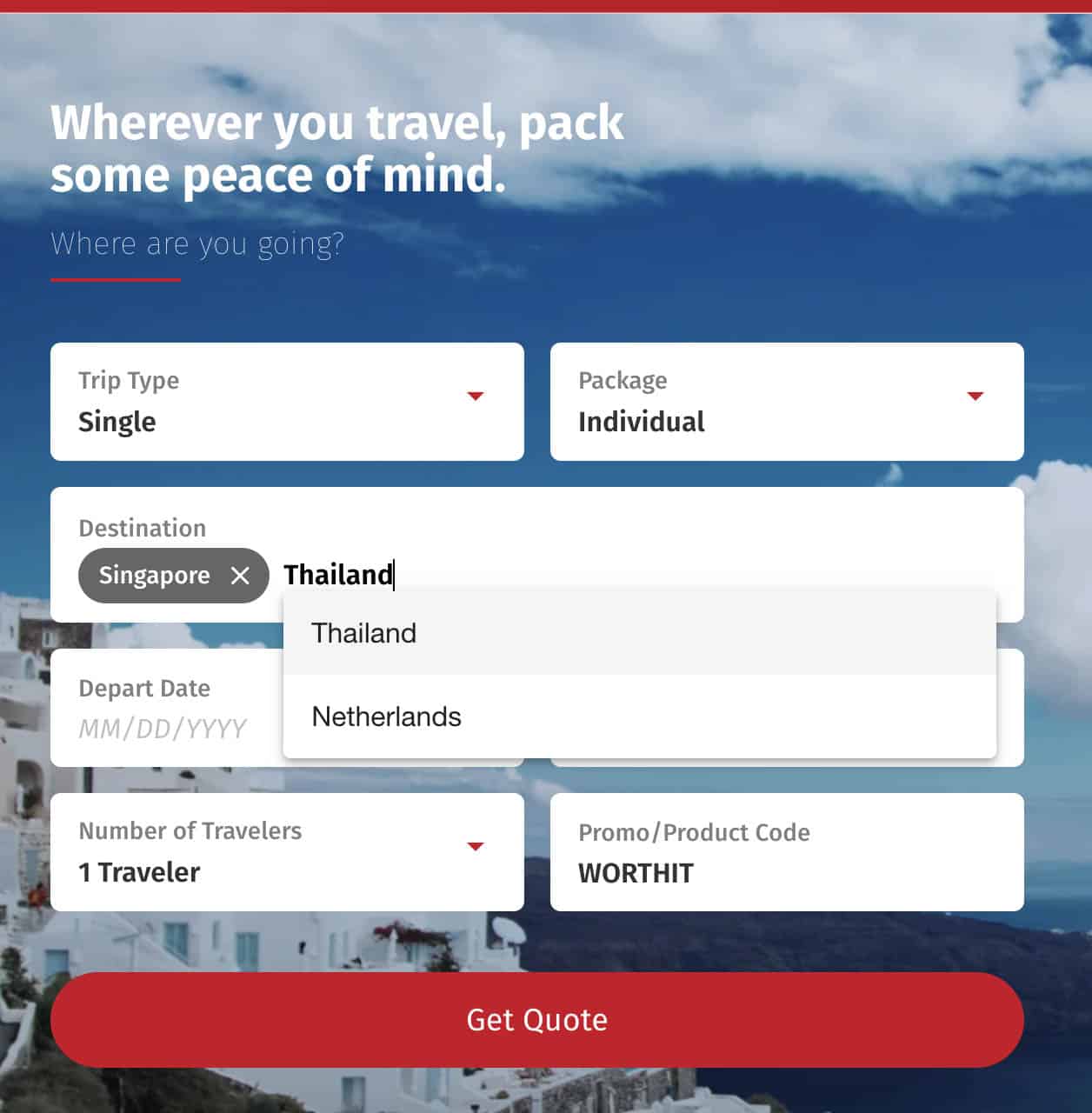 Supply the following information:
Trip type (single or annual multi-trip): If you need a policy for just one trip, select SINGLE.
Package: Pick INDIVIDUAL.
Destinations: Enter ALL the countries or territories that you intend to visit. The system will choose the appropriate plan for you, depending on the countries you select. For example, if you enter a country within the Schengen Zone, the system will automatically present the SUPREME PLAN, which meets the Schengen visa requirements.
Depart Date: the date you're leaving your usual residence for the trip.
Return Date: the date you'll arrive at your usual residence after the trip.
Number of Travelers: You can select up to five travelers. If you're a party of more than five, you may book another batch.
Promo/Product Code: Type WORTHIT to get an affordable rate.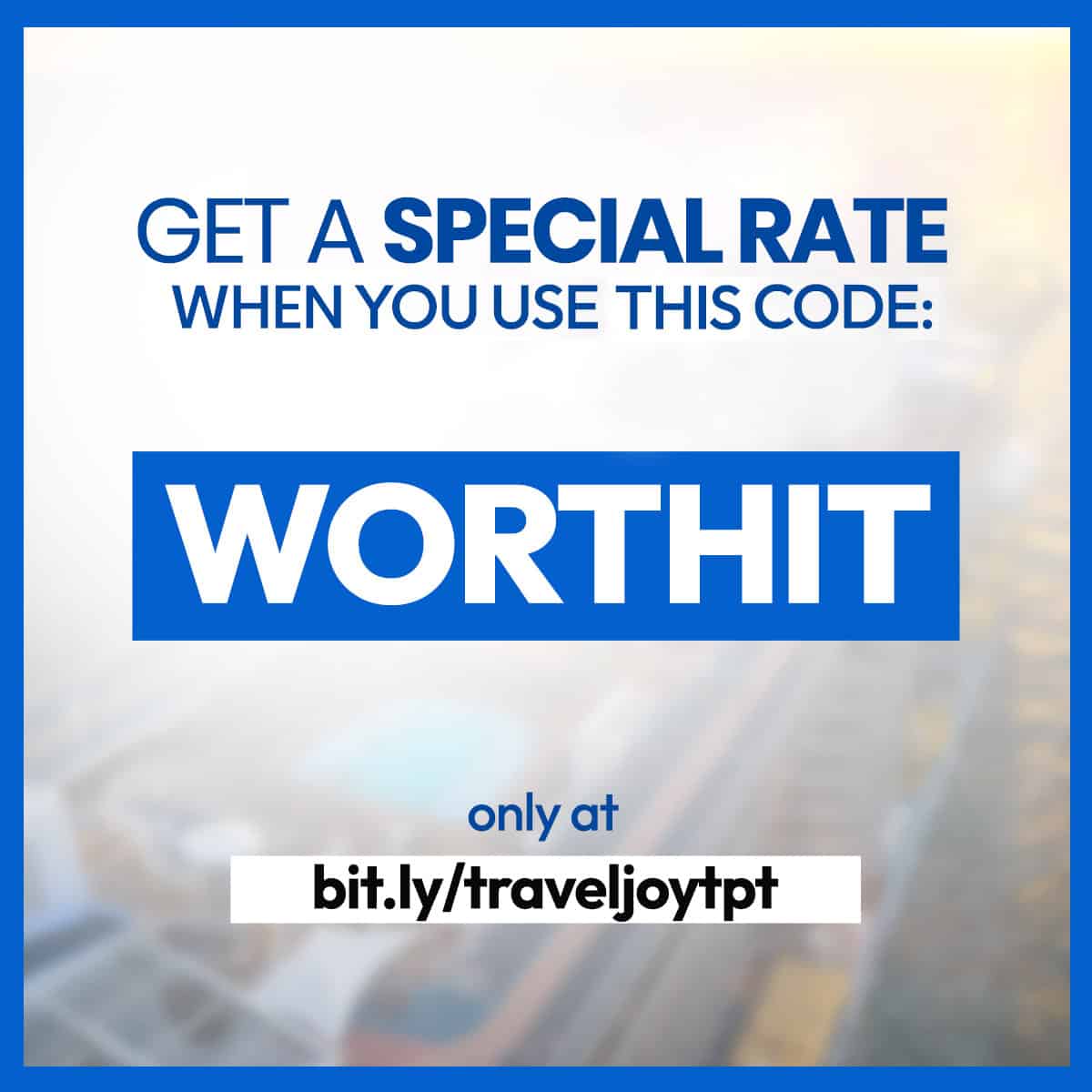 Once the form is filled out, click GET QUOTE.
---
2. Select the SUPREME plan.
If you entered a Schengen state in the previous page, you won't have any other choice. It will automatically offer you the SUPREME Plan, the Schengen-accredited policy. It's what I submitted in my most recent application.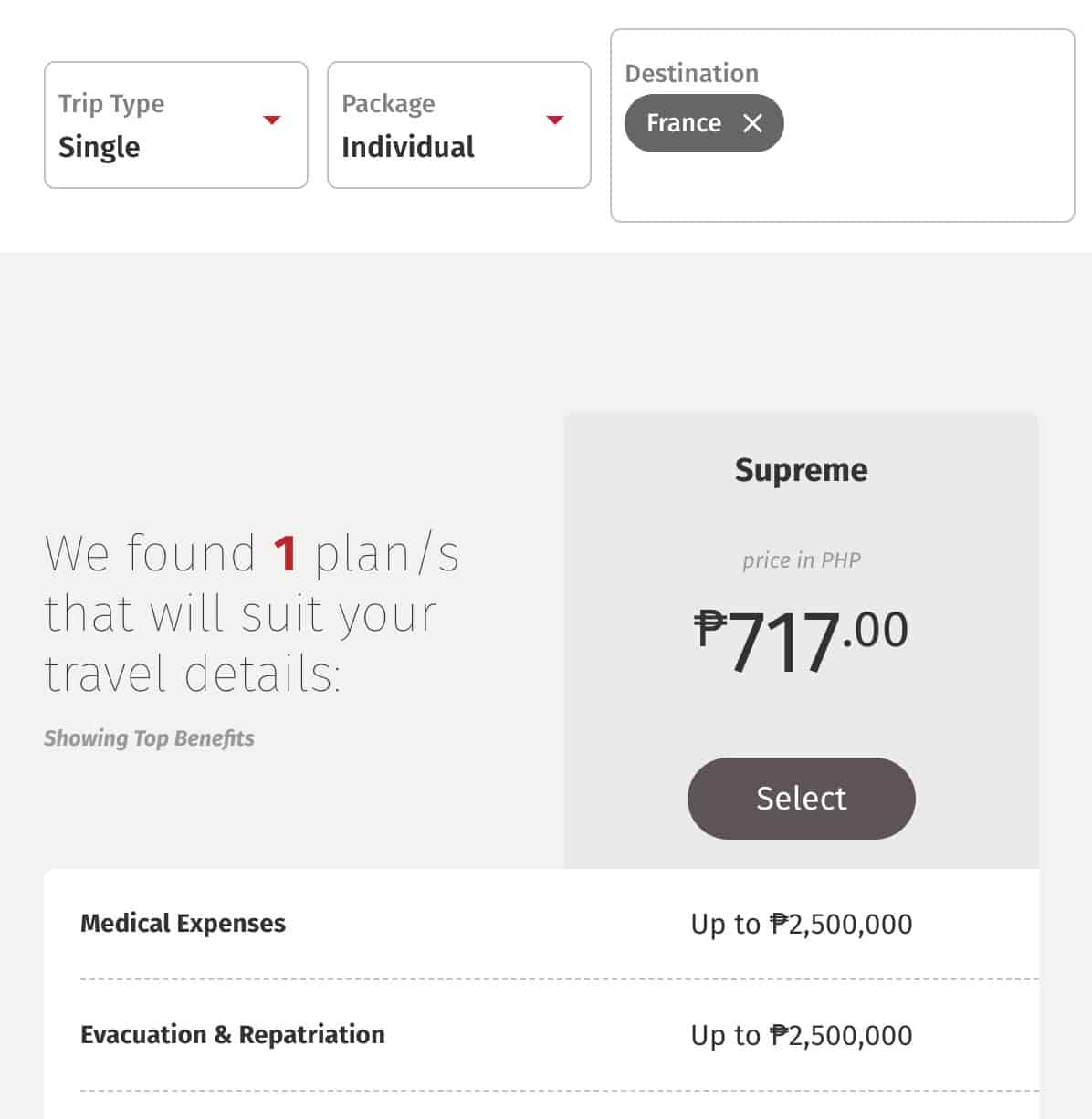 Note: The cost of the plan varies depending on how long your trip is and what countries you will be visiting.
If everything is to your satisfaction, click BUY NOW.
---
3. Accomplish the personal information form.
Type your personal details correctly in the right field.
Under Applicant Details, type in your information. If you're a group, only one needs to complete this part. Below it are the fields for the insured persons, which can be up to 5 travelers. If you're also traveling, you may just tick the "Copy Applicant details to Insured Persons" button to automatically duplicate your answers and avoid typing them all over again.
Here are some of the details needed: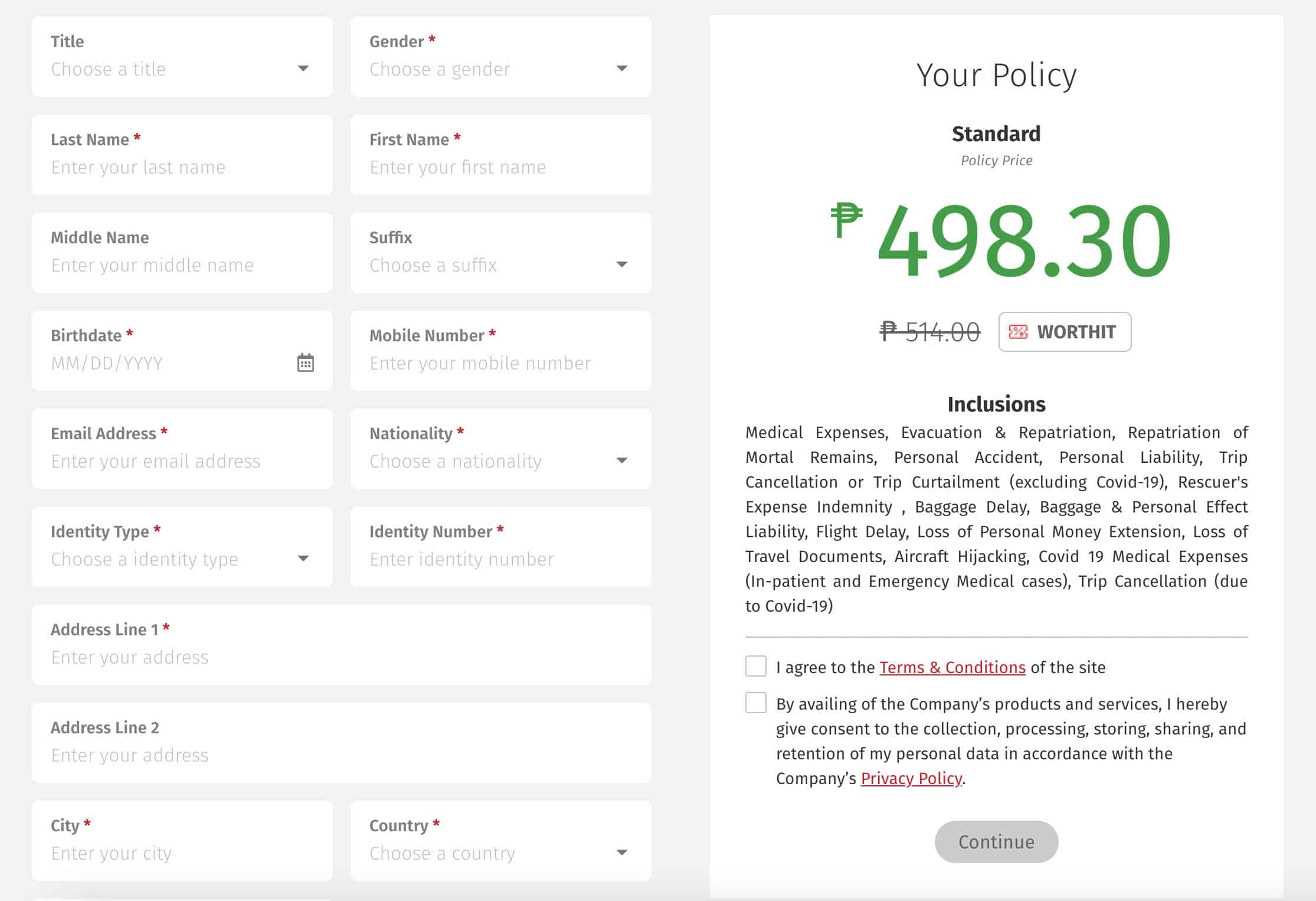 full name
birth date
contact number
email address
nationality
ID type and number
In the bottom section, enter the personal details of your beneficiary. If you skip this, the system will consider "Succession of Law" by default.
Agree to the Terms and Conditions as well as the Privacy Policy, and tap CONTINUE.
---
4. Pay for the insurance.
The next page will lead you to the PesoPay Payment Service, which is the official payment partner of PGA SOMPO. There are a number of payment options available, namely: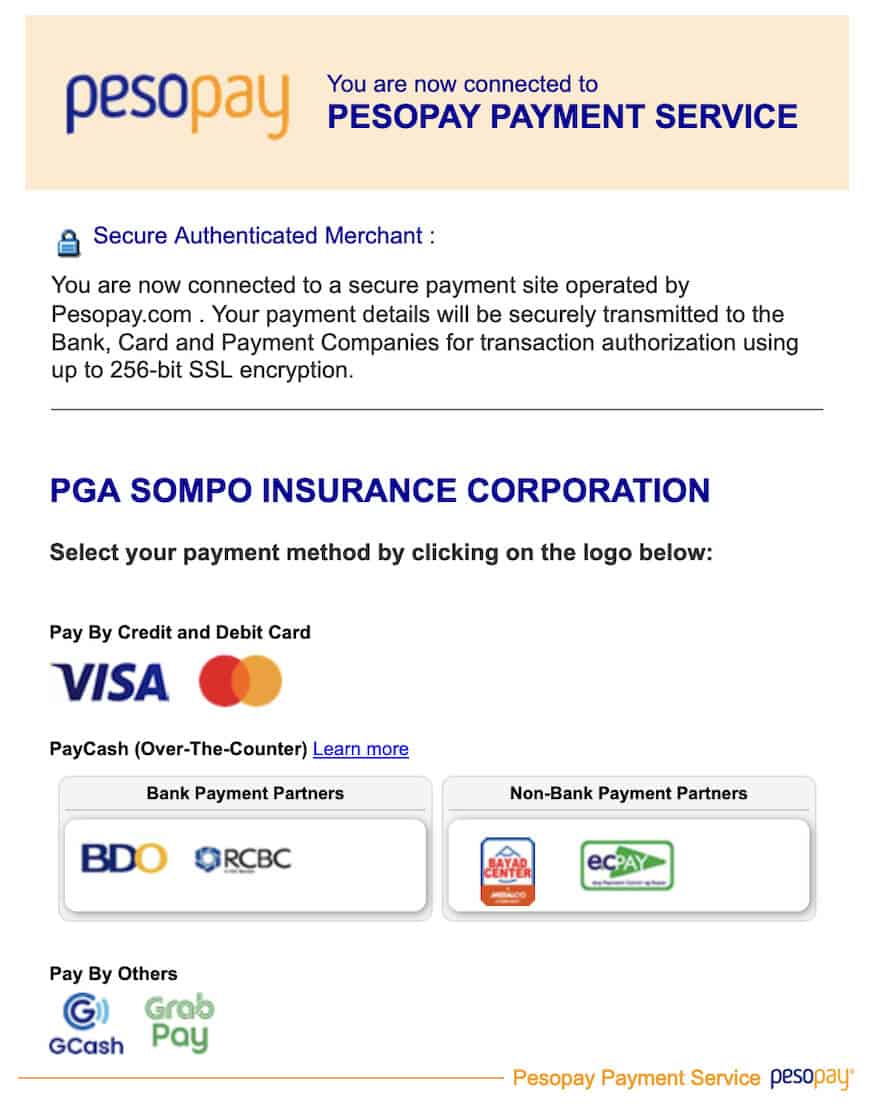 GCash
GrabPay
Visa or MasterCard credit card or debit card
BDO (over the counter)
RCBC (over the counter)
Bayad Center
EC Pay
Tap on the logo of your chosen payment method.
If via card, you'll be required to enter your credit card or debit card details.
If via GCash, you'll be required to log in to your GCash account.
Once payment is complete, the screen will show you a Transaction Result. Then click CONTINUE. It will take you back to the PGA SOMPO website with a summary of your purchase.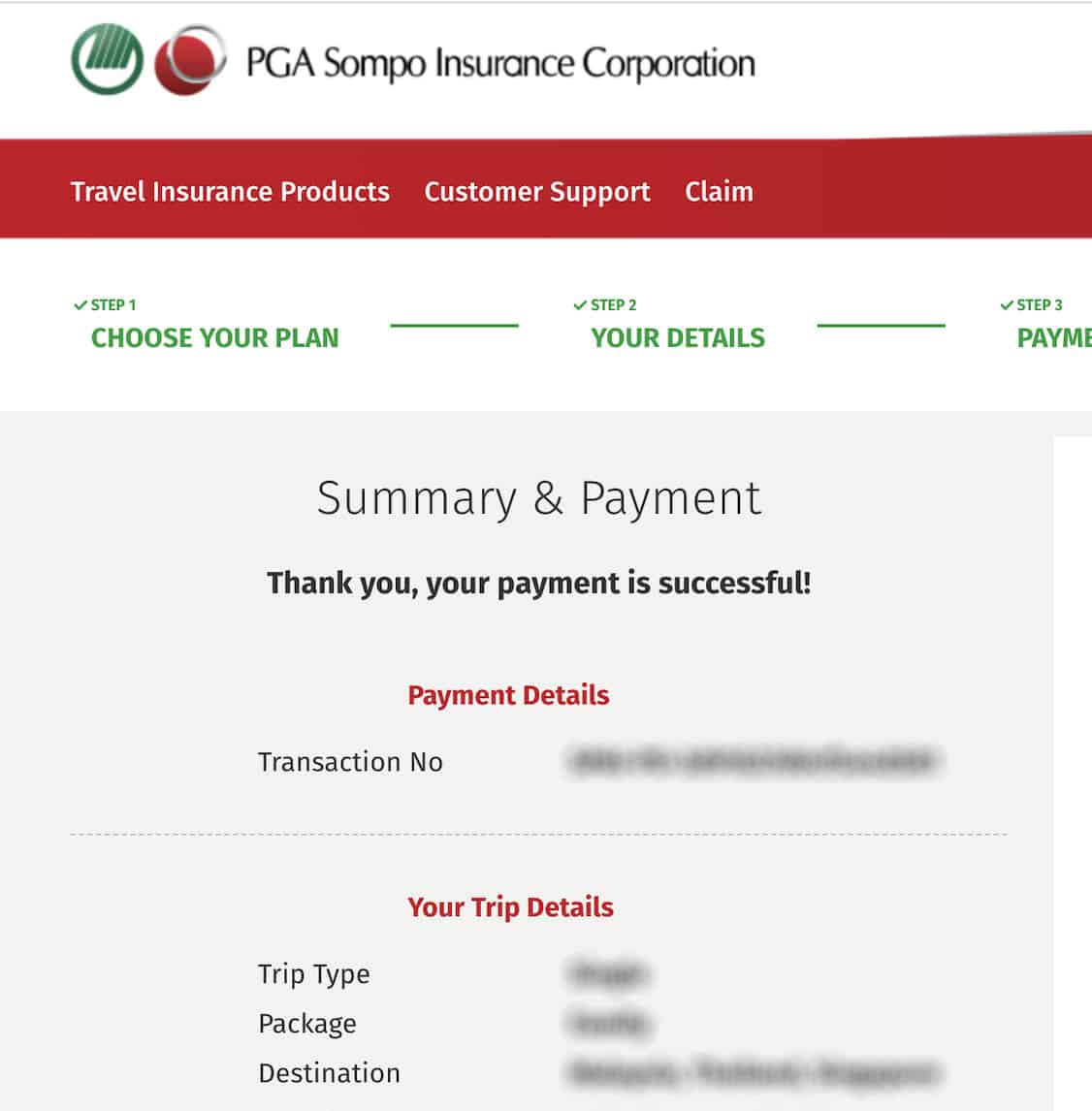 ---
5. Keep a copy of your Confirmation of Cover.
Check the inbox of the email address you entered in the previous page. You should receive a copy of the Confirmation of Cover (COC), similar to this: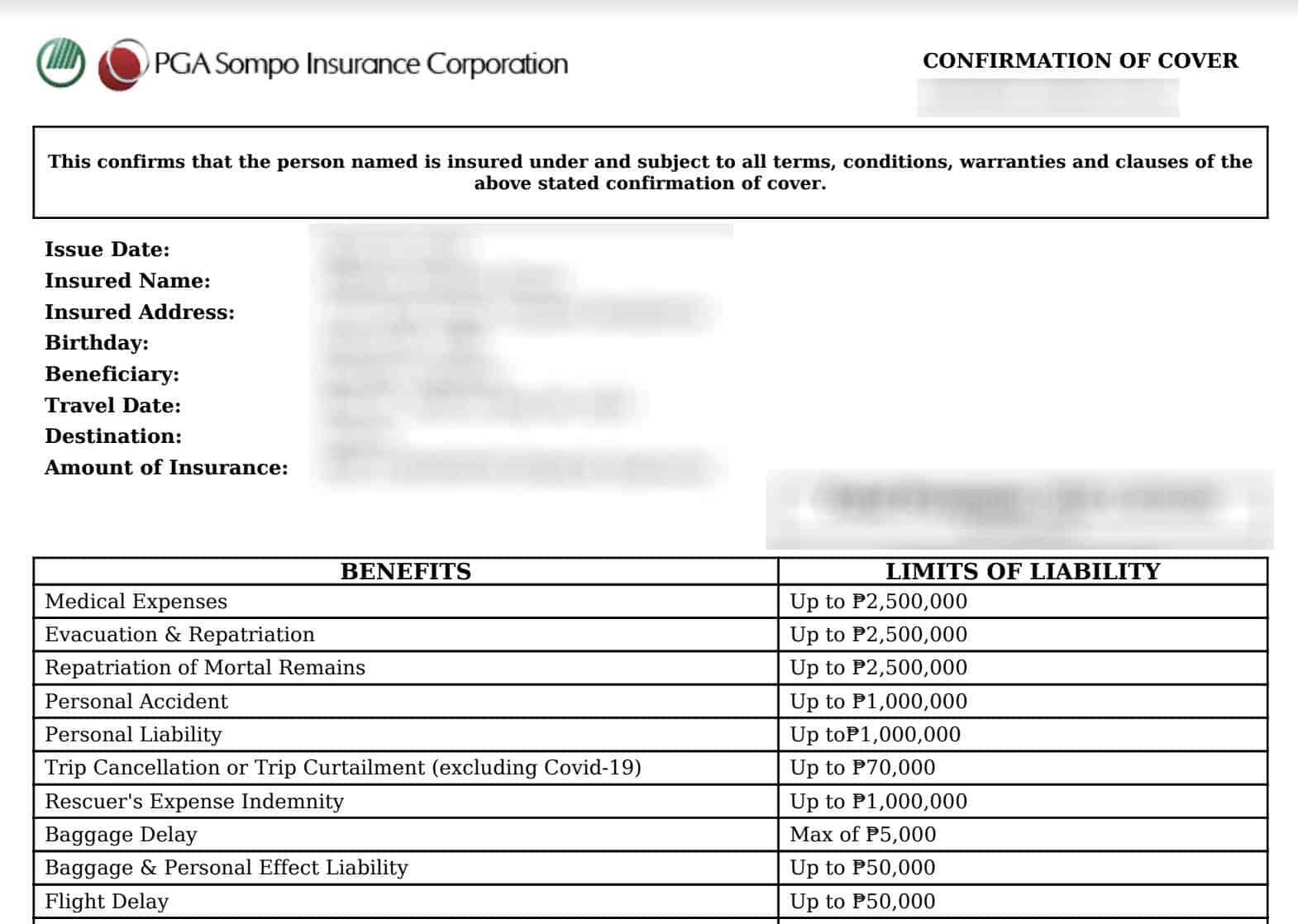 Save or print it out as needed.
---
FREQUENTLY ASKED QUESTIONS
Is travel insurance really required when applying for a Schengen visa?
YES. There's no way around it. You have to have a travel insurance. It is one of the most important documents the embassies need to see.
---
What are the countries that require a Schengen visa?
Austria
Belgium
Croatia
Czechia
Denmark
Estonia
Finland
France
Germany
Greece
Hungary
Iceland
Italy
Latvia Liechtenstein
Lithuania
Luxembourg
Malta
Netherlands
Norway
Poland
Portugal
Slovakia
Slovenia
Spain
Sweden
Switzerland
---
How many days should the travel insurance cover?
That depends on how long your trip will be. In most cases, the policy should cover the entire duration of your trip, from the day you depart to the day you return. But some embassies require additional days. In our experience, the Italian Embassy requires an additional 15-day coverage beyond your declared travel dates. We were told that the Swiss Embassy does the same.
It's best to double check with the respective embassy to be sure.
---
What is PGA SOMPO TravelJOY Plus? What are its benefits?
TravelJOY Plus is the travel insurance offered by PGA SOMPO, a joint venture of Prudential Guarantee and Assurance, the top non-life insurance company in the Philippines, and SOMPO Holdings, a leading non-life insurance company in Japan. Both are known for providing high-quality service.
Together, they put together TravelJoy, which can give travelers like you relief and compensation for untoward incidents like personal accidents, medical emergencies, flight or baggage delays, trip cancellation, evacuation, loss of money, and more! COVID-19 coverage is also included!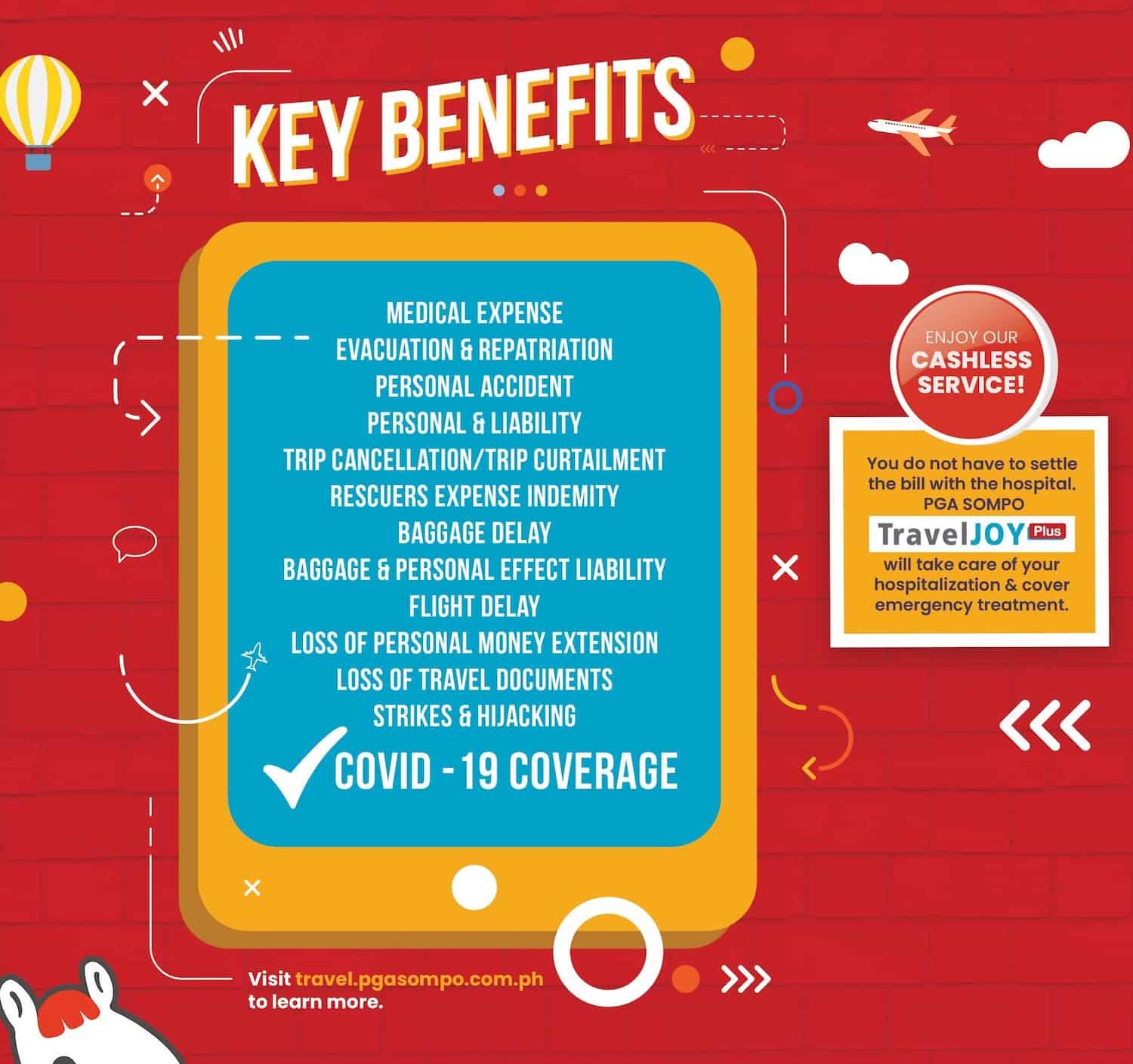 ---
How much is TravelJOY Plus?
One great thing about TravelJOY Plus is its competitive pricing. It is one of the most value-for-money travel insurance products out there. The Schengen-accredited Supreme plan costs PHP 717 (1-4 days), and this also applies not just to the countries within the Schengen Zone but also the UK, Ireland, Turkey, and European Russia.
Here's the full price list. But just in case there are cost movements in the future, best to visit this page to get a more updated quote.
---
Is there a GROUP or FAMILY option?
There used to be a FAMILY option, but it's currently unavailable. In the meantime, you may choose INDIVIDUAL and select the number of pax that applies to you.
---
Why choose TravelJOY Plus?
Aside from its competitive prices, PGA SOMPO is part of the SOMPO Group which is present in over 30 countries around the world. These SOMPO offices worldwide can provide necessary assistance and support should the time come that you need it.
---
How to contact PGA SOMPO in case something happens?
The TravelJOY Plus Hotline is +632 8866 7388. It's open 24/7.
---
Disclosure: This article is made possible through collaboration with PGA SOMPO.