With so many options on the market, finding the right car rental provider can be a headache, so we've done the hard work for you.
Taking into account everything from rewards programs to airport locations, we've compiled a comprehensive list of the best rental car companies in America. You might be looking for an economy car for a one-way rental getting you from A to B, or you might be sourcing a pick-up truck for a week-long rental. Whatever it is you need, these companies will kit you out.
To best compare the options, we searched each website for a 3-day midweek rental in New York (JFK Airport), for dates two weeks out from the time of writing.
Ready? Let's get started.
1. TravelPerk: the best choice for business travelers
If you're searching for the best car rental deals for business trips, travel management company TravelPerk might be your best bet. With multiple types of cars available, from Compact to Economy, Intermediate to Mini, you're free to pick the style that best caters to your specific needs.
TravelPerk offers a vast inventory, including both manual and automatic cars, from which to choose your rental car. If you're looking for a sustainable option, there's also a selection of electric cars available.
TravelPerk works with some of the top names on the market, including Avis, Enterprise, Europcar, Hertz, National, and Sixt. This system means that you'll save significantly more than by simply booking with a provider. The benefits don't end there—if you have specific needs requiring a specialized service, TravelPerk can get in touch with extra providers to find your ideal vehicle.
With all the bonus features including additional drivers, young driver insurance, and booster seats, TravelPerk's got your back.
TravelPerk's key features include:
Partnerships with leading car rental companies
24/7 customer service with a target 15-second response time
Intuitive booking tool and all-in-one platform
Available in four languages: English, French, Spanish, German
Bonus feature GreenPerk to offset your carbon emissions
Paid extra FlexiPerk, enabling passengers to cancel up to two hours before a journey starts and receive at least 80% of their money back
A vast number of software integrations
See how to save your company time and money on business travel
During our research, we found that the TravelPerk platform gave a wide variety of options for a family car rental in mid-October, booked with two weeks' notice, from $146 – $623.
2. Hertz: the top car rental loyalty program on the market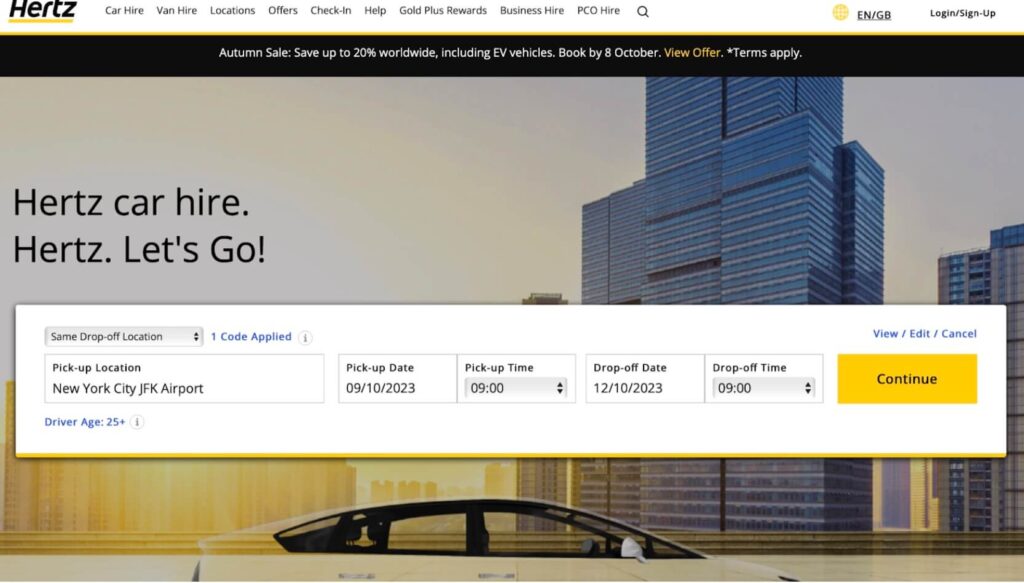 Close to 20 million users around the world is about as good a recommendation as you're going to get. Hertz is a strong contender when it comes to rent-a-car solutions. Whether you're heading to Michigan in a Mercedes or Pennsylvania in a Peugeot, Hertz has everything from luxury saloons to zero-emissions EVs. Hertz offers some competitive rental rates—some of the most affordable on the market—but doesn't cut down on quality.
The Hertz Gold Plus Rewards® program has eradicated the fear of lengthy morning queues that are so notorious with car rental companies of the past. As a member of the program, you'll be able to skip the queues and head straight for your car at the pick-up location.
You'll also rack up points pretty quickly, allowing you to access perks, and add-on features to make your car rental experience that much more enjoyable.
Some of their stand-out features include:
The Dream Collection: a selection of luxury cars (only available in certain locations)
Van rentals by the week, day, or even by the hour
Partner offers to sweeten your trip including American Express, Hostelling International, Sonhaus, Accor, and more
Gold Plus Rewards: earn redeemable points, save up to 10%, guaranteed upgrades, and more
GPS navigation
During our research, prices for a family car rental during mid-October, booking two weeks in advance, gives options at around $154 – $436.
3. Enterprise Rent-A-Car: a global leader in customer satisfaction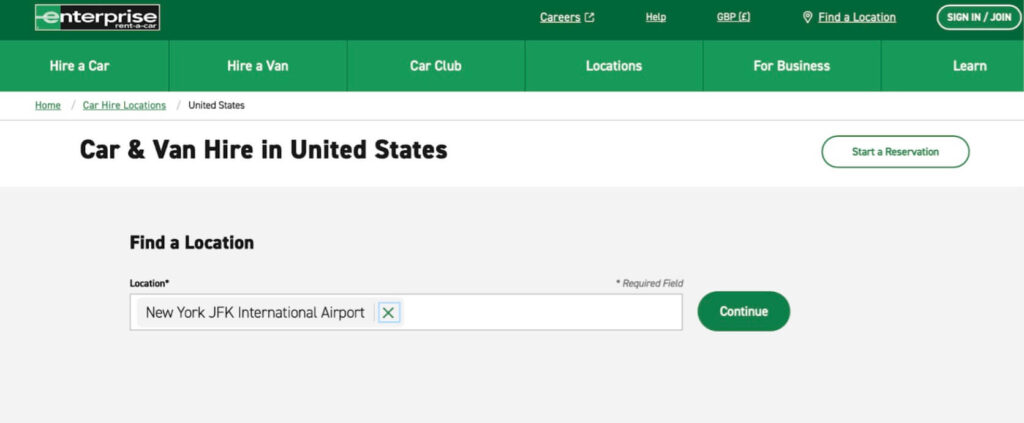 With some of the best rental prices on the market, Enterprise is a global leader when it comes to car rental services. Established in 1957, Enterprise has locations all over the USA, but also Europe, Asia, Australia, and much more. They cater to various travel requirements, whether a one-day car hire or a month-long rental.
Offering exceptional customer service and competitive rental rates, Enterprise is known for its reliability and accessibility. Globally, Enterprise owns and operates over 1.7 million vehicles: in short, they know what they're doing. Enterprise is part of Enterprise Holdings, which also owns National Car Rental and Alamo Rent a Car.
Enterprise's key features include:
Enterprise Plus customer reward program
Free upgrades for loyalty program members
Replacements with no rental fees
Car share options
25+ years old to rent a car
Flex-E-Rent division
Free cancellation up to three days before the scheduled pick-up
Premium car hire options
A three-day family car rental for mid-October, booked two weeks in advance, offered various options between $285 and $740.
4. Fox Rent-A-Car: best for budget car rental and last-minute deals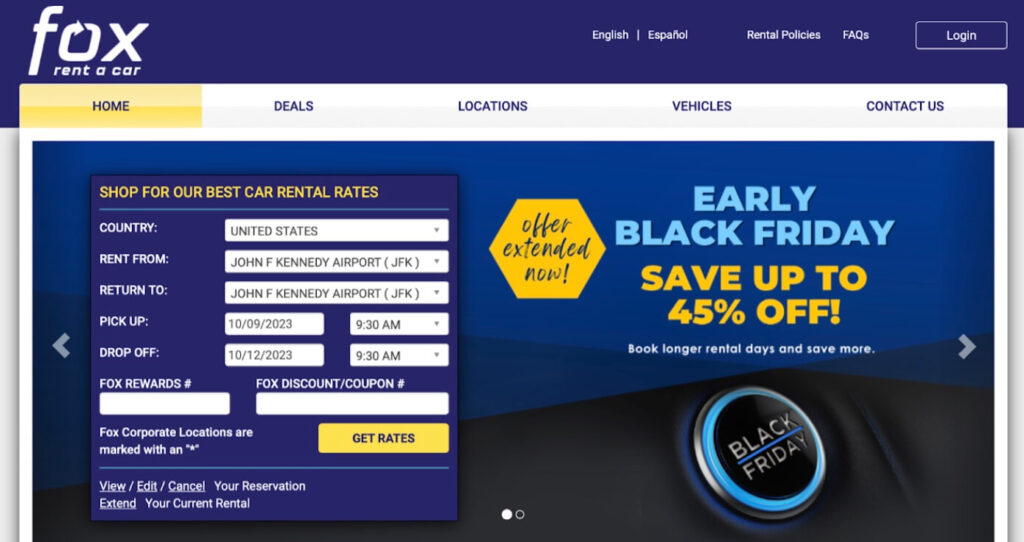 If you're looking for a car rental company that'll have you back when you most need it—Fox is a great bet. With vehicles that are guaranteed to be safe and road-worthy, Fox operates all around the US with locations in Dallas, Houston, Orlando, Seattle, and more.
With drop-off points at all major airports, it's best for travelers needing an economy car, and seeking cheap rates as a priority. Fox has many great deals on offer, but when you're booking, keep an eye out for hidden fees: they're not known for their transparent pricing system.
Fox's key features include:
Car rental age limit starts at 18 for active duty military, 19 for everyone else
Free upgrades for loyalty program members
Student discount available
A fleet of over 20,000 vehicles
Optional extras including GPS, car seats, snow chains, etc.
Fee for one-way rentals, depending on location and rental company
Our research showed that searching for a three-day family car rental for mid-October, booked two weeks in advance, stood at $139 – $314.
5. National Car Rental: an American company with a smooth rental process

Owned by Enterprise Holdings, National is a top contender for those seeking both quality and affordable prices. With over 1,500 car rental locations around the world, including Canada and the rest of North America, you can rest assured this provider knows what they're doing. With daily rates from only $30, National has some pretty good deals you can set your sights on. Whether it's a sporty midsize or a hefty RV you're looking for, National will help you source it.
National's key features include:
Emerald Club customer loyalty program
National mobile app
Van rentals by the week, day, or even by the hour
Social responsibility program
Last-minute special deals
Partner rewards
We found that a three-day family car rental for mid-October, booked two weeks in advance, started at $281 – $477.

It's time to book your ideal car rental agency
There you have it, five rental car companies in the US to consider for your next road trip. Whether you're traveling for business, leisure, or bleisure, you should be in safe hands, and on four wheels in no time at all. Two more companies to consider are Alamo and Turo if you want to extend your search a little further.
Out of all of the companies we've shared on this page, TravelPerk comes out on top for its ease of use when it comes to the intuitive mobile booking application, and should be your go-to for business travel.
The TravelPerk team works tirelessly to secure car rental deals that you'll struggle to beat elsewhere. What's more, traveling with TravelPerk comes with heaps more benefits beyond your car rentals: you'll have your entire business trip planned from the comfort of one app.
The post The 5 best car rental companies in the US appeared first on TravelPerk.