Mykonos has some of the best beaches, most romantic places for couples, and the greatest parties in the Greek Islands. Once on the island, you will find award-winning restaurants and fun adventures.
Mykonos Town is generally the best place to stay on the island; however, if you're not staying there, my recommendation would be to scope out some of the beach areas with good hotels!
I'm giving you the lowdown on where to stay in Mykonos — from some of the best hotels on the island and those that are affordable for any budget.
Before booking your first trip to Greece, make sure to check out the Best Time to Travel to Greece and the ultimate Mykonos Travel Guide.
Here are the best hotels to stay at in Mykonos!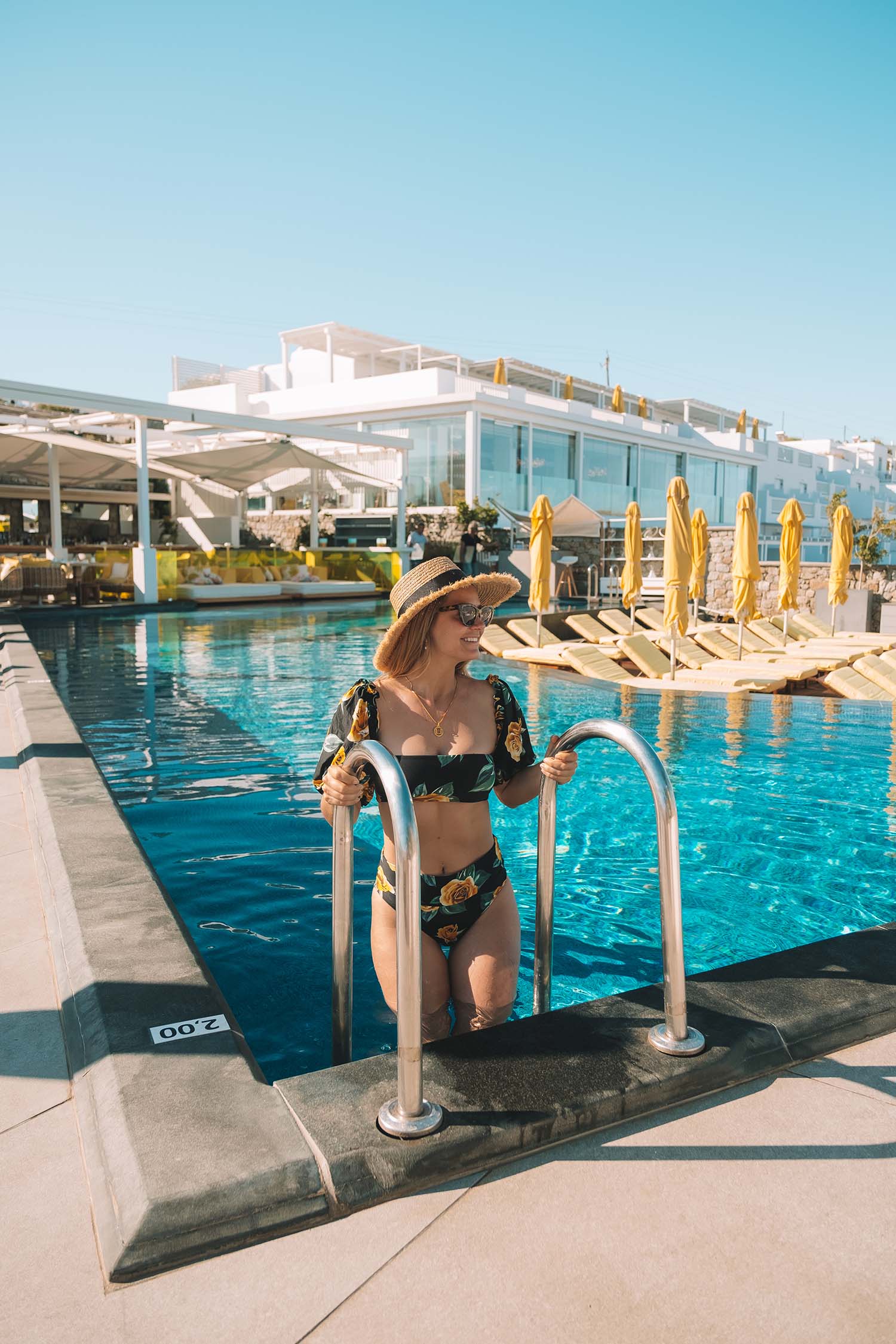 Luxury Hotels in Mykonos
Myconian Collection
Great For
Romantic Retreat
The Myconian Collection is a series of 10 luxury hotels in Mykonos. On one of my adventures in Greece I was lucky enough to stay at two of their luxury hotels: The Myconia Villa Collection in Elia Beach and the Myconian Korali.
No matter which one of their luxury hotels you stay at in Mykonos, you will not be disappointed. The Myconian Collection hotels have some of the best views, gourmet restaurants, top-notch staff, and amazing swimming pools.
Take your pick from Korali Relais & Châteaux and the Villa Collection!
The Myconian Collection hotels are a perfect stay for couples wanting a romantic retreat.
Katikies Mykonos
Great For
Honeymooners & Relaxation
Katikies Mykonos is a collection of 35 beautiful luxury suites. The luxury hotel in Mykonos is situated above the beach of Agios Ioannis, just a few miles from Mykonos Town.
Each room has amazing sea views, and many include either a private pool or an outdoor jetted tub. Guests can enjoy time at the hotel's gym and then relax by the pool or enjoy a service at the hotel's spa.
The Katikies Mykonos is a perfect stay for honeymooners and those wanting some relaxation.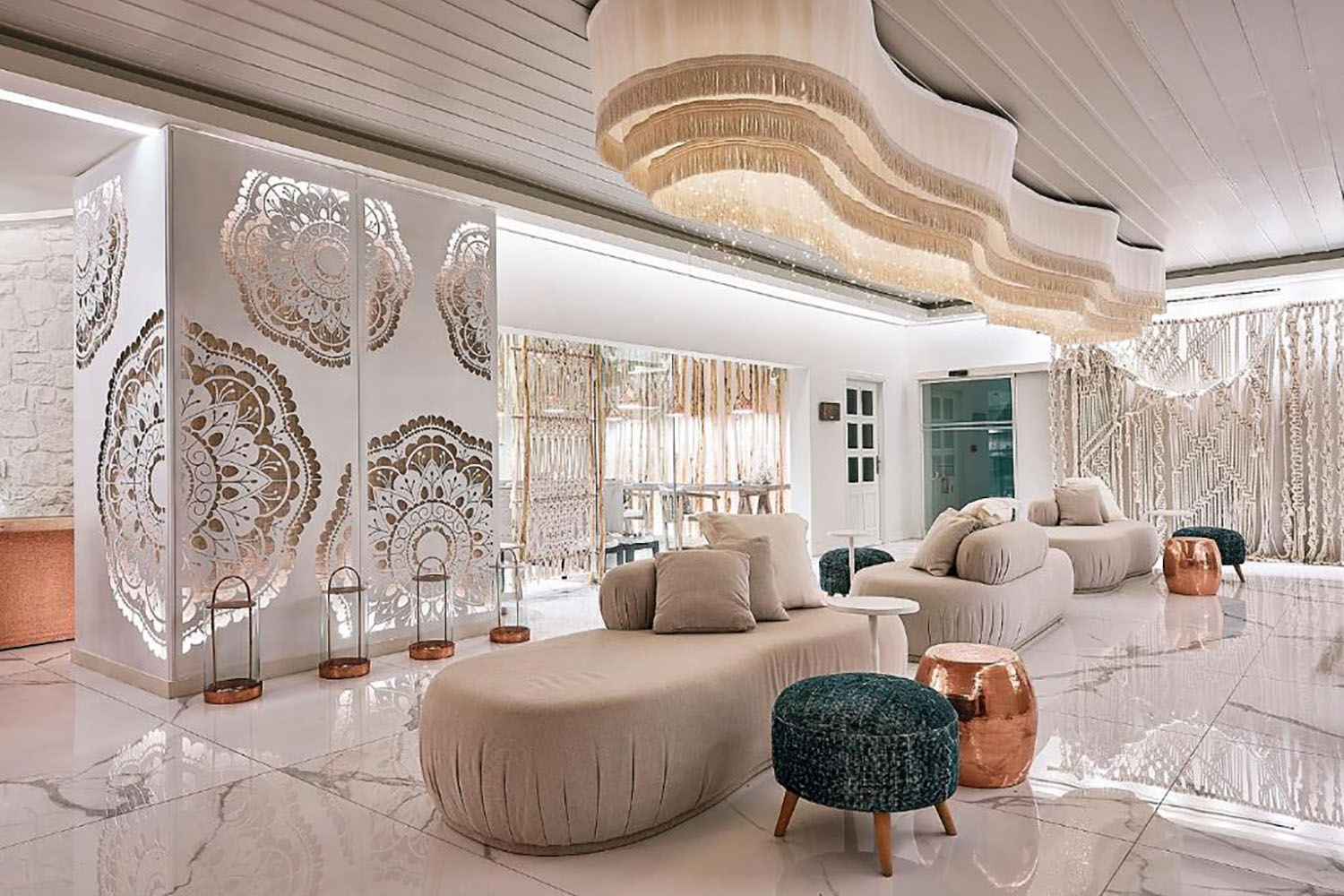 Palladium Boutique Hotel
Great For
Couples and Weekend with Friends
Feel exceptional and indulge at Palladium Boutique Hotel. This is one of the best hotels in Mykonos being awarded Traveler's Choice Best of the Best six years in a row.
Palladium Boutique Hotel offers its guests superior service, luxurious comforts, and an ideal location.
Visitors can start the mornings off enjoying sophisticated Greek cuisine at La Veranda and Ble breakfast restaurant, and then relax and unwind at the outdoor pool or enjoy one of the Spa services.
Palladium Boutique Hotel is the perfect stay for couples or a weekend retreat with friends.

Mid-Range Hotels in Mykonos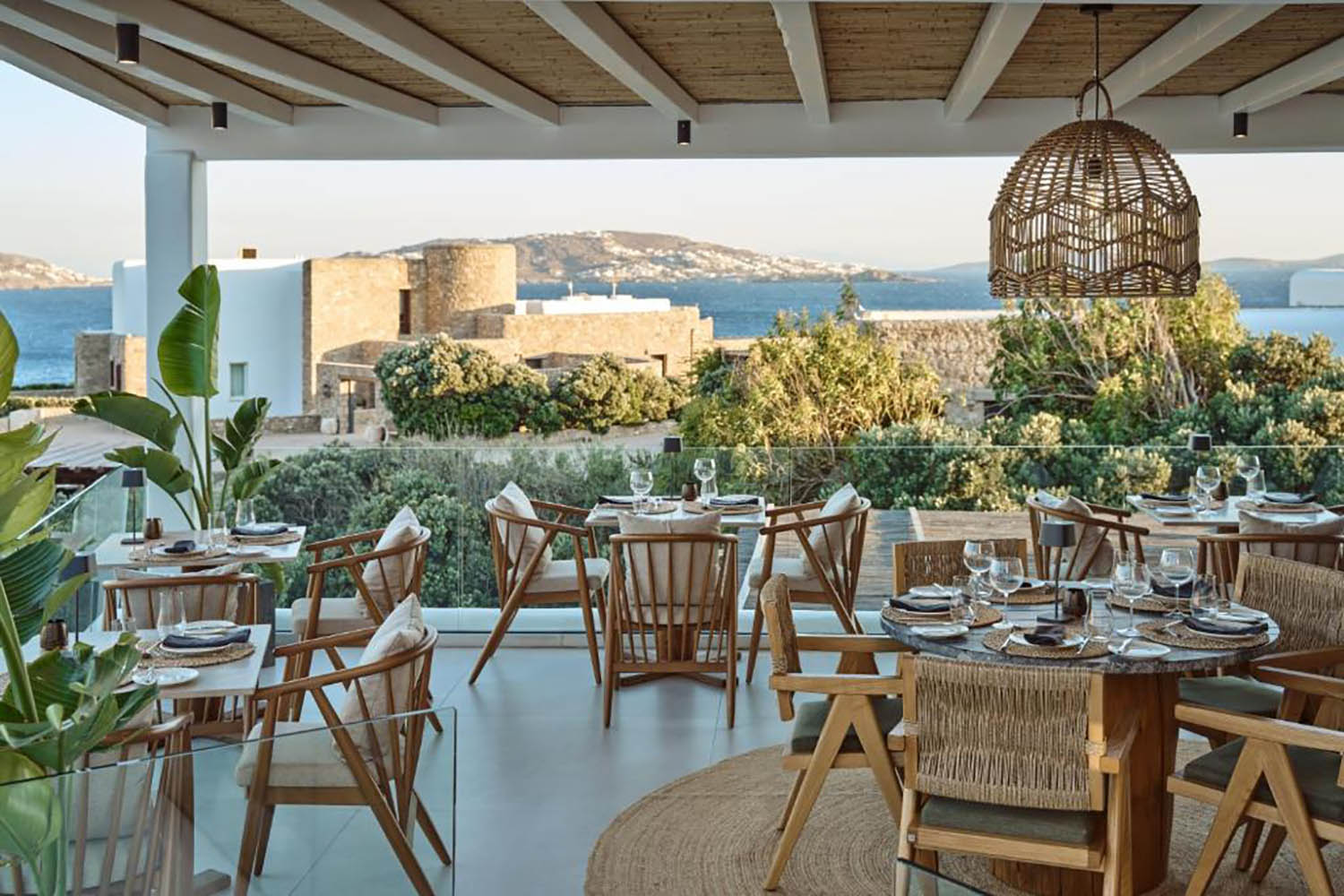 Mykonos Princess Hotel
Great For
Couples on Vacation
Mykonos Princess Hotel offers some of the best guest services in Mykonos, Greece. It has won many customer-nominated awards for over five years in a row.
Mykonos Princess Hotel has many unforgettable accommodations which include a fitness center, spa treatments, and an outdoor pool with a pool bar.
Guests will have many dining options which include poolside catering during the day or enjoying a romantic dinner at Kapari Rooftop Restaurant at night.
Mykonos Princess Hotel is a great stay for those on business or couples on vacation.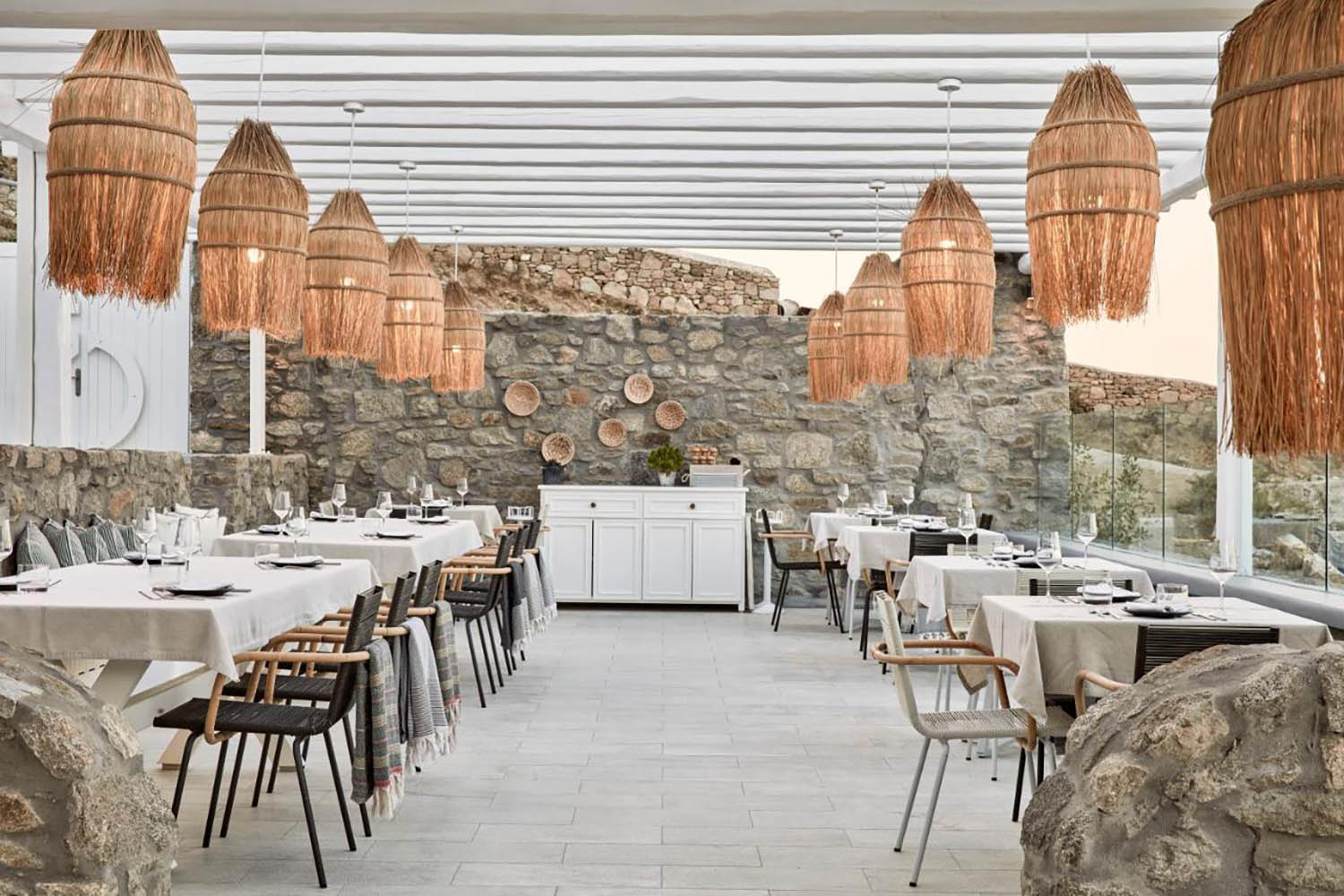 Mykonos 5 Suites and Villas
Great For
Business or Leisure
Mykonos 5 Suites and Villas is a hidden gem built atop a hill in Kanalia Village. Each of the suites at Mykonos 5 is comfortable and contemporary, and they all offer seaside views of Greece's turquoise waters.
Guests can enjoy breakfast by the pool, lunch from the lounge menu, or a candlelight dinner at the new restaurant on location.
Whether you are traveling for business or leisure, everyone will find Mykonos 5 Suites the perfect stay in Mykonos.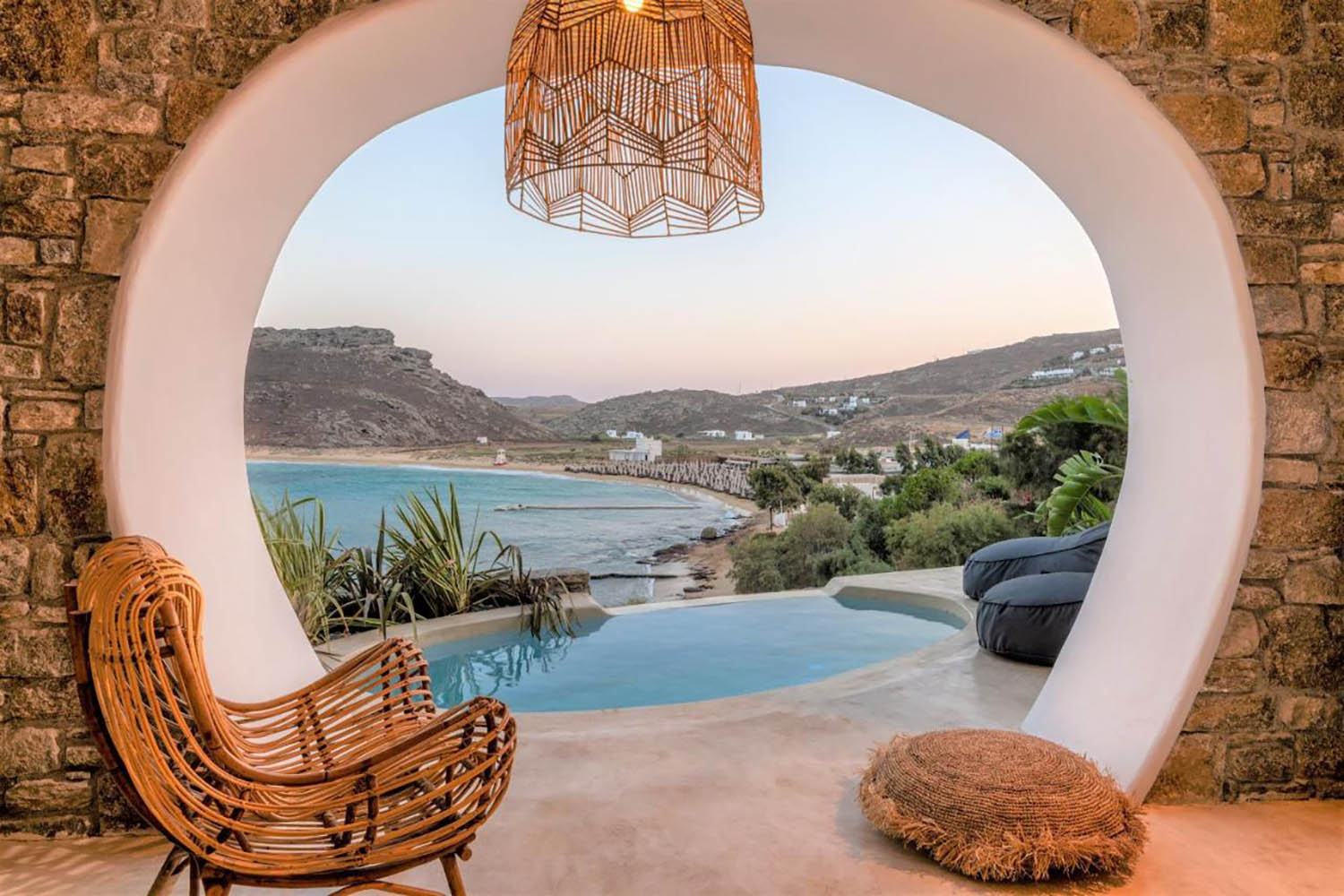 Panormos Village
Great For
Families or Couples
Panormos Village is a home away from home and just steps away from the clear waters of Panormos Bay. Those staying here will love swimming in the infinity pool or walking down to the beach.
Panormos Village has a 4-star onsite restaurant that serves local Mediterranean dishes while guests enjoy the amazing views of Panormos Bay. There is also an American buffet breakfast and a poolside snack bar.
Panormos Village is the perfect stay for families, couples, and those wanting a more relaxed, but luxurious stay in Mykonos.

Budget Hotels in Mykonos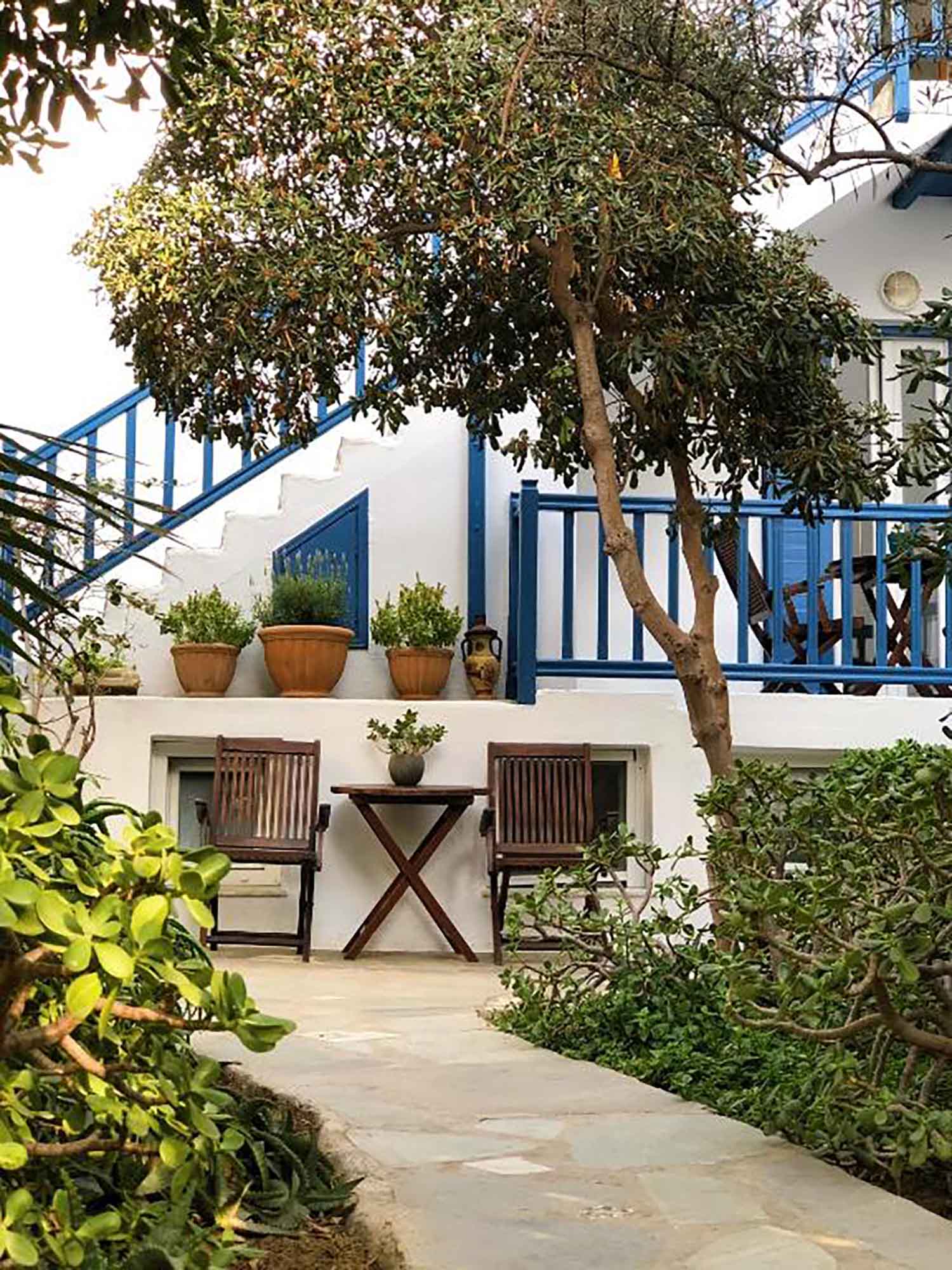 Matina Hotel
Location
Heart of Mykonos
Matina Hotel is centrally located in the heart of Mykonos. This newly renovated family-owned boutique hotel is just steps away from beaches, restaurants, museums, bars, and shops.
All guests have access to the flower garden lounge, the hotel bar, and the indoor and outdoor breakfast area. Rooms are comfortable and a great place to relax after exploring Mykonos, Greece.
Matina Hotel is a great stay for families and those wanting a simple place to stay after adventuring around town.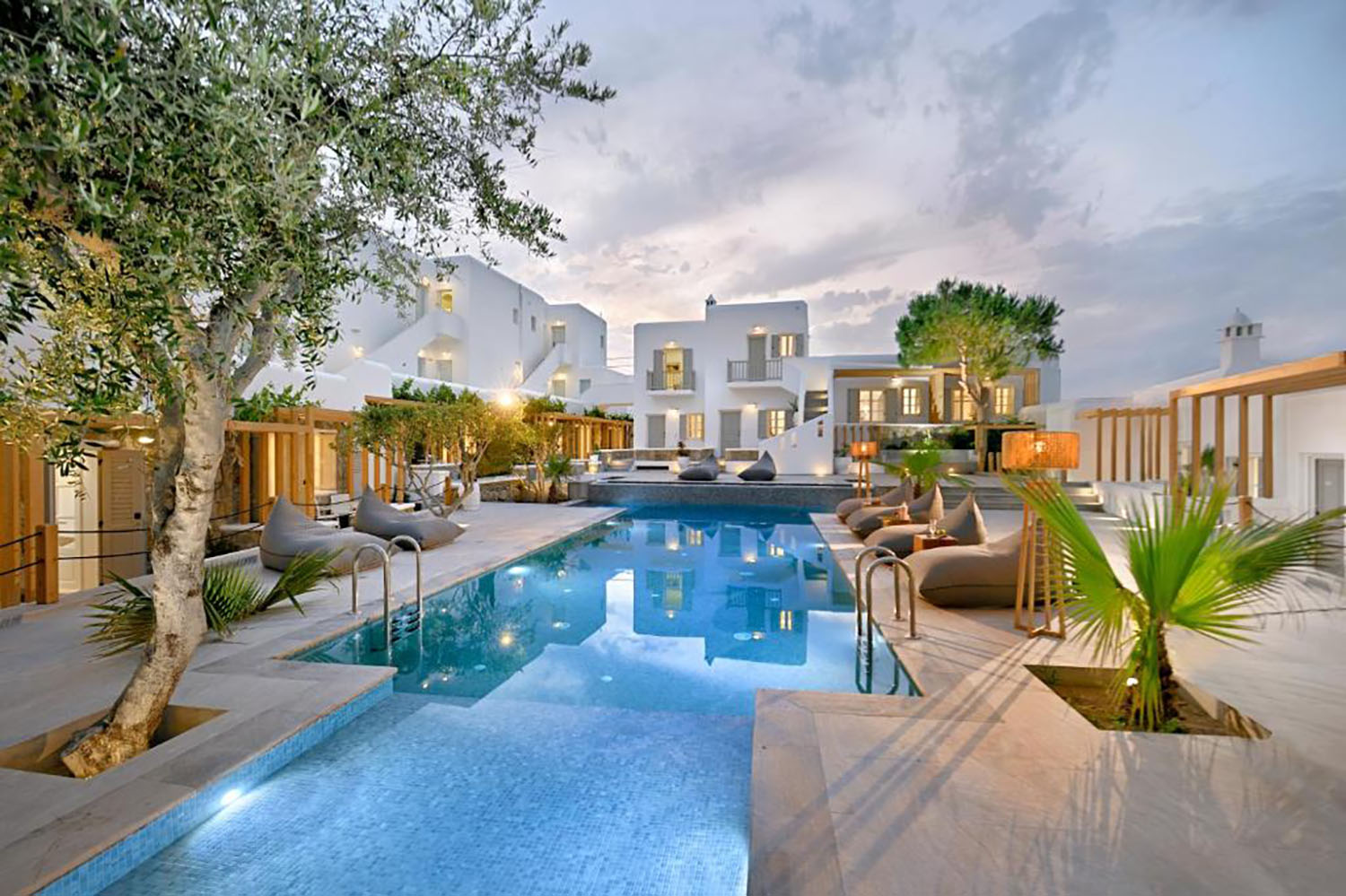 Petinos Hotel
Great For
Families or a Girl's Weekend Trip
Petinos Hotel is an award-winning hotel situated steps from the beach of Platis Gialos and a short drive to Mykonos Town.
Petinos Hotel includes suites and apartments that are modern, clean, and comfortable. Guests can enjoy a meal at Blue Myth, the onsite hotel that has amazing Mediterranean views.
Petinos Hotel is a great stay for families or a girl's weekend trip.

Do you have a favorite hotel in Mykonos? Let me know in the comments below!