With a staggering 72% of total car rental revenue expected to be generated through online sales by 2027, there's good reason why companies are turning to car rental software to help them capitalize on this digital shift and remain competitive in the evolving market.
Whether you're a small business, start-up, travel management company, or travel agency looking to streamline business travel booking, this article breaks down the best car rental software and each system's key features and functionalities to help you make the right choice for your needs.
What is corporate car rental software?
Corporate car rental software is primarily designed for car rental companies and dealerships to help them modernize their rental management systems, manage back-office tasks, and optimize fleet management processes.
However, corporate car rental software also caters to travel management companies and agencies to help them handle business travel operations, including car rental bookings, management, and tracking.
For example, while travel managers might be looking for car rental software that helps them rent vehicles for business, travel agencies might be interested in integrating a car booking engine into their website, enabling direct car rental reservations that streamline their clients' travel experiences.
As well as features for booking and managing vehicle rentals, corporate car rental software helps organizations track fleet operations, automate billing and invoicing, maintain driver and vehicle information, utilize GPS tracking, and generate insightful reports.
Best car rental software for companies
1. TravelPerk
Unlike leisure travelers who might prioritize the cheapest rental cars, business travelers have different needs. As well as a frictionless and reliable booking experience, business travelers are looking for flexibility, stellar customer support options, and exclusive corporate rates.
Catering for all these needs and more, TravelPerk is one of the few travel management platforms with a complete car rental booking feature that's designed explicitly for business travelers. TravelPerk offers the widest selection of corporate rentals and rates and enables business travelers and travel managers to book car rentals, flights, accommodation, and save money with its all-in-one travel platform.
TravelPerk works with some of the top names on the market, including Avis, Enterprise, Europcar, Hertz, National, and Sixt. This system means that you'll save significantly more than by simply booking with a provider.
And that's not all. You can also easily manage travel itineraries, business expenses, and VAT refunds. In fact, companies that book through TravelPerk have access to a VAT recovery solution, helping them save up to 25% of their annual travel budget for travel throughout Europe.
TravelPerk noteworthy features
Streamline business travel and expense management within a single platform and seamlessly link your car rental with other travel plans.
Gain access to an extensive global corporate car rental inventory and enjoy lower prices thanks to exclusive rates.
Enjoy rapid 24/7 customer support, with responses to your or your employees' inquiries with a 15-second target response.
If you need to make a cancellation up to two hours before the booking begins, FlexiPerk allows you to retrieve up to 80% of the cost of the trip.
Receive VAT-friendly invoices from various car rental companies (applicable only to travel within Europe).
What's Included:
3-day rental for a midsize sedan
Insurance coverage and liability protection
Cancellation policy
Unlimited mileage
How customers rate TravelPerk
G2 rating: 4.6/5 (as of October 2023)
Capterra rating: 4.8/5 (as of October 2023)
Save money on car rentals for business trips today!
Best car rental solutions for travel management companies and travel agencies
2. HQ Rental Software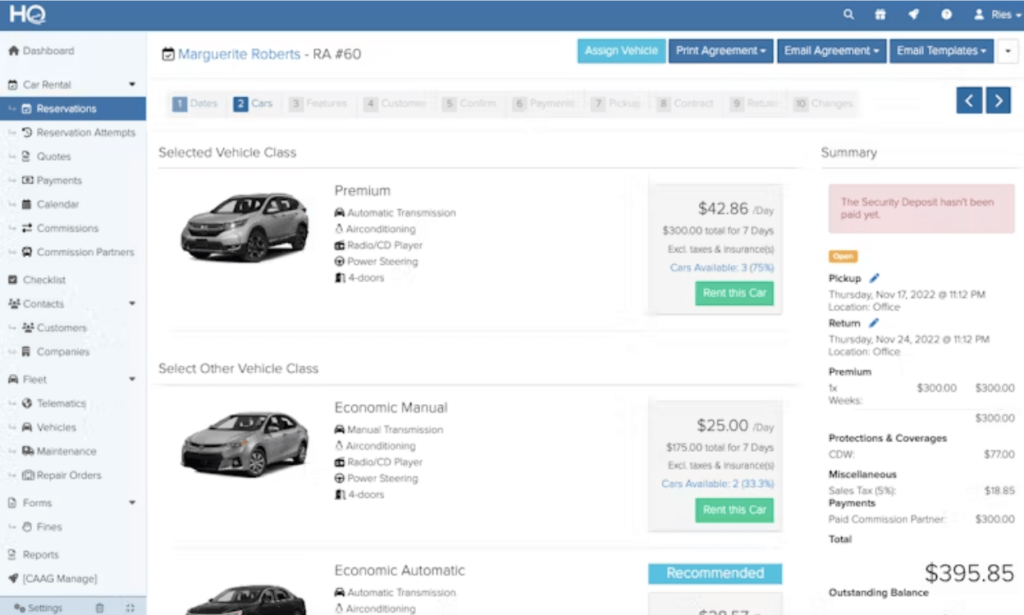 HQ Rental Software is a web-based car rental management software solution that offers four tools: Online booking management, reservation, and payment plugins, fleet management tools, a self-service car rental tool, and a telematics solution for rental vehicle tracking.
The solution aims to help car rental businesses automate their car rental operations, manage fleet availability, repairs, and finances, and create customized rental agreements. Companies that rent motorbikes and boats and those that specialize in equipment rentals can also benefit from HQ Rental Software's integrated rental package.
HQ Rental Software noteworthy features
HQ Rental Software integrates with payment gateways such as Stripe and PayPal for integrated payment processing.
Automatic and customizable receipts, rental agreements, and booking services.
A drag-and-drop calendar helps businesses manage schedules, appointments, and rental durations.
Users can set up maintenance rules, notifications, and alerts and create repair orders via automatic emails.
Advanced reports help organizations monitor key performance indicators regarding their bookings, fleets, financial performance, and online conversions.
How customers rate HQ Rental Software
G2 rating: As of October 2023, HQ Rental Software does not have any user reviews on G2.
Capterra rating: 4.8/5 (as of October 2023)
HQ Rental Software pricing
As well as a free 7-day trial, HQ Rental Software offers four pricing tiers:
Basic: $90/month for 10 vehicles.
Standard: $150/month for 25 vehicles.
Professional: $225/month for 50 vehicles.
Enterprise: Travel management companies and agencies with more than 50 vehicles can request custom quotes.
3. Flit2GO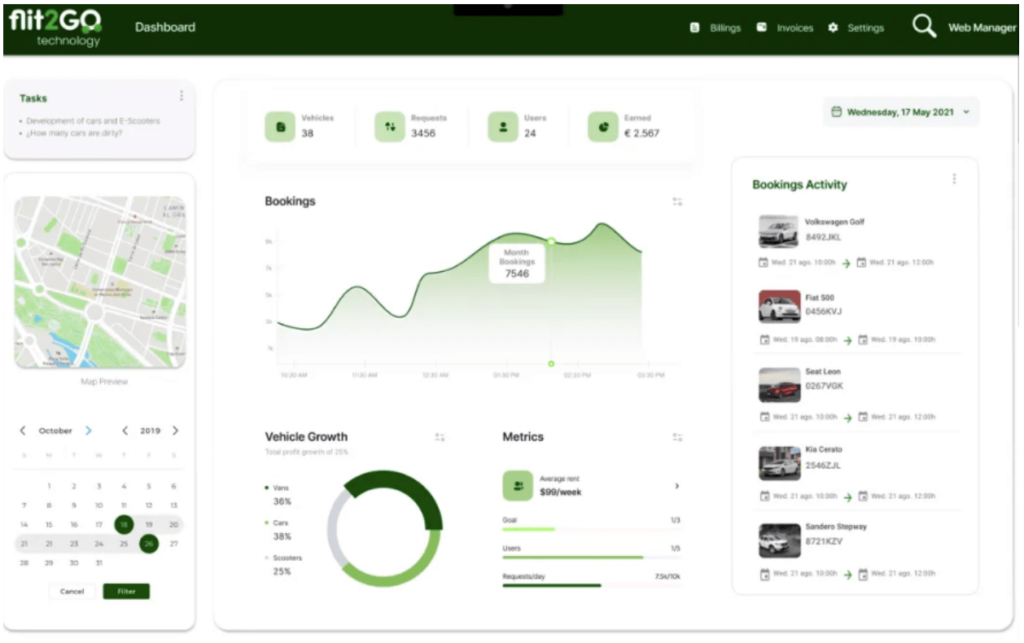 Flit2GO is a vehicle rental management solution designed to modernize and digitalize car rental services with a seamless multi-channel booking system, automation features, and intelligent follow-up processes for improved customer relationship management (CRM). The system is also customizable for all types of rental vehicles, including cars, motorcycles, scooters, motorhomes, and bicycles.
The software's ERP tool for internal management helps organizations manage billing, customer registration, and booking calendars from one place. Flit2GO's features help to centralize the entire car rental process from customer registration through to the start and end of the rental.
Flit2GO noteworthy features
Users benefit from the digitalization of invoices and online contract signing.
Flit2GO's booking engine enables easy online reservations and bookings.
Companies can create their own tailor-made and customizable car rental mobile app, complete with company branding.
Reservation systems are connected to the platform's ERP to help companies stay in complete control of their entire business.
A fleet control module enables companies to remotely monitor and track their vehicle fleet.
How customers rate Flit2GO
G2 rating: As of October 2023, Flit2GO does not have any user reviews on G2.
Capterra rating: 5/5 (Note that this rating is based on nine user reviews, as of October 2023)
Flit2GO pricing
Flit2GO does not display public pricing information on its website — you'll need to contact them directly for a quote.
4. Rentall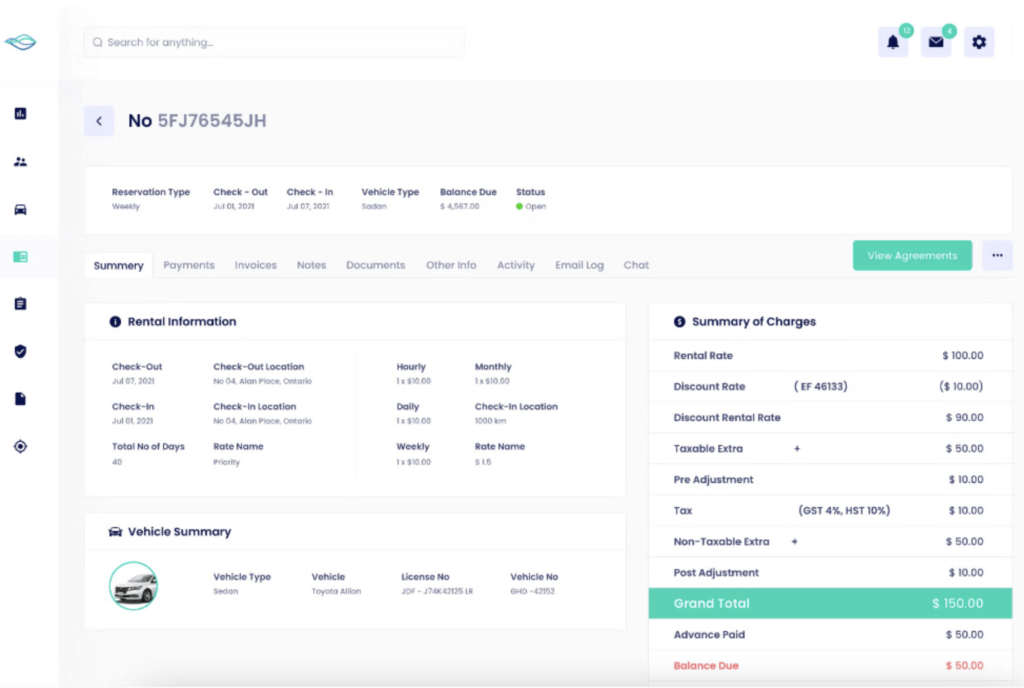 Cloud-based car rental software solution Rentall is an all-in-one system designed for rental car companies. The software enables companies to automate all business processes, from marketing and maintenance to payments and reporting.
The software helps companies manage their fleet, customers, online bookings, rental agreements, and reservations with the added bonus of easy integration into their existing websites.
Rentall noteworthy features
With over 30 add-ons, the platform can be customized to suit each organization's unique business needs and goals.
All users receive comprehensive platform training with the support of a dedicated support team.
Users can enable real-time alerts, including customer inquiries and maintenance issues.
Businesses can include a car-sharing add-on to their offering, providing customers with simple online reservations, e-signatures, contactless pickup and return processes, and user-friendly payment processing.
How customers rate Rentall
G2 rating: 4.9/5 (As of October 2023)
Capterra rating: 4.5/5 (As of October 2023)
Rentall pricing
Rentall does not display public pricing information for the three feature packages on offer. Instead, the company creates custom quotes based on the type and number of vehicles and the number of locations you require.
Best car rental software for small businesses
5. Vevs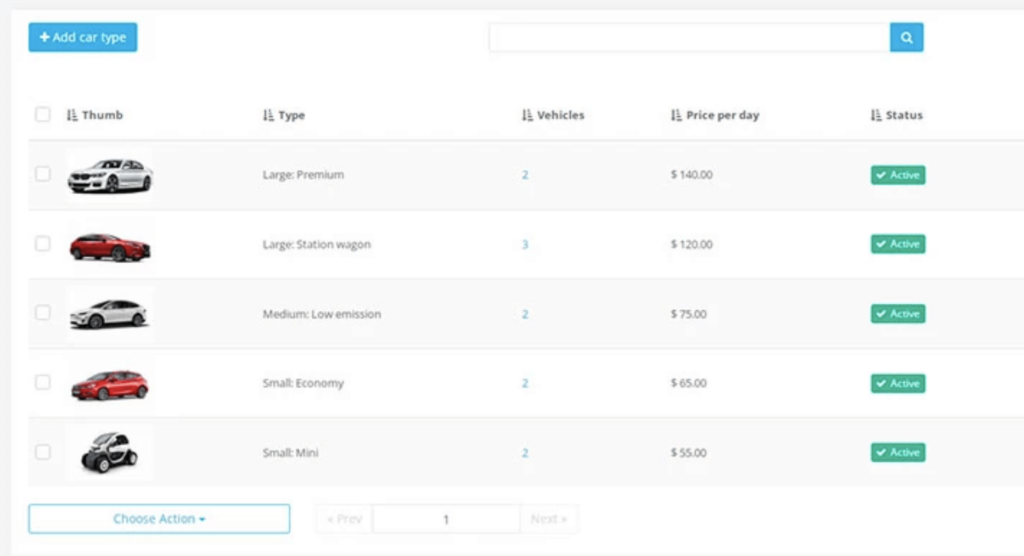 Vevs is a SaaS-based vehicle rental software platform and website builder designed for small businesses to help them elevate their sales, optimize business operations, and enhance customer satisfaction.
In addition to an all-in-one rental solution complete with online reservations and payments, Vevs provides SEO-friendly website creation, lifetime customer support, and assisted setup and platform training. Vevs also offers several third-party integrations — including fleet management software — and a full API to help companies streamline their entire business.
Vevs noteworthy features
Businesses can set variable rental rates based on reservation duration and seasonal pricing for all vehicle categories.
Client communication is improved and staff are updated with automatic notifications for new reservations, payments, and cancellations.
Maintenance and repair operations and vehicle expenses can be tracked, including dates, categories, types, costs, and status.
The provider creates reports on sales and business history to help businesses make informed decisions based on real-time data.
The API feature extracts specific data from Vevs' platform and seamlessly integrates it with other third-party systems.
How customers rate Vevs
G2 rating: 5/5 (Note that this rating is based on only one user review, as of October 2023)
Capterra rating: 4.3/5 (Note that this rating is based on six user reviews, as of October 2023)
Vevs pricing
VEVS offers flat, subscription-based pricing. The software costs $80/month plus $799 for setup costs that include website creation, software configuration, and vehicle integration.
You'll also need to select the number of vehicles that you operate. To give you an idea of the price, 10 vehicles will cost you an additional $73/month with an annual contract.
Wrapping up
Corporate car rental systems are a game-changer for business owners, vehicle rental businesses, travel management companies, and travel agencies that want to save time and money, simplify back-end operations, and boost profitability and online sales.
But, the future of the car rental industry will rely on more than just providing a great fleet of vehicles; the key differentiator will be how you leverage software to remain competitive in an evolving market, make better business decisions, and meet the ever-changing needs and expectations of your customers.
To find out more about how TravelPerk can save your business money on car rentals for business trips, book a demo with our expert team today.
The post The top 5 best corporate car rental software in 2023 appeared first on TravelPerk.